This week we feature Greg Kazulak , Co-founder and CEO of Positionly. Positionly is a SEO software that can do some very specific things for your business. The program is designed as a one-stop solution for all your SEO needs.
In this interview, you can read more about his work at Positionly, favorite marketing tools, productivity tips as well as his advice for budding marketers.
Your location: Warsaw, Poland.
‍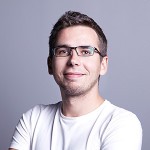 ‍
Your favorite gadget: iPad.
You start your day with: Glass of cold water ;-)
Your favorite time-saving trick: Focus only on one task until you finish it.
Your top 3 blogs you read daily: Positionly & articles recommended by friends on Medium
"I always keep things simple and organized."
Describe an average day at Positionly?
I start my workday way before I get to the office. For the breakfast I check emails and spend some time to go through my priorities for a particular day. When I come to our HQ I often have some appointments scheduled, either with folks from the team, potential hires or partners.
As a Founder, what is your favorite productivity hack?
I always keep things simple and organized. Before each day ends I know exactly what I should focus on the next day. I organize my to-do list and I always focus on one thing at a time.
As a person who is well-versed with online marketing/ inbound, I'm sure you rely on a few marketing tools to automate your efforts. What are the top 3 tools you use?
Positionly — well, on a daily basis I use our very-own app to know how Positionly is doing in different search engines. I check backlinks, particular keywords and of course monitor how our competitors are doing just to stay in the loop.
Buffer — great tool for social media management, it makes running different social media accounts effortless, plus it helps with tracking all your marketing efforts.
Kissmetrics — it helps us capture a "big picture" of our marketing actions and find ways to optimize our online campaigns.
Your company has a growing community of users. How do you use this treasure trove of customer insight to power your marketing efforts?
We cherish customer feedback the most. It's our users that help us grow and change Positionly for the better. Actually, we are about to launch the new version of Positionly — we've added new features and updated the design (stay tuned!). Feedback provided by our beta testers was absolutely crucial to move further with the development process and polish the beta version into a final, solid application.
What is your strategy for getting people to your site and then converting them to a customer?
The thing that we invest the most of our resources is content marketing. We believe that giving valuable tips, insights and knowledge to our potential customers is the best strategy. We write extensive ebooks, run webinars, prepare guides and of course run a blog with SEO and inbound marketing tips. On every stage we show the real value customers get from using Positionly. We also have awesome customer success team which assists our potential customers along the way.
Is there any advice you'd like to give to budding marketers to help them work smart and stay productive?
Take some time to test things. Don't be afraid to leave your comfort zone and try new strategies. Plan and implement. Measure. If something is not working, leave it immediately and switch to other marketing actions. When you find channels that bring the most value, double down on them.
A big thanks to Greg for taking the time out to answer these questions! If you haven't already, we highly recommend that you check out Positionly.
The 'How Marketers Stay Productive' series asks marketers their tips & strategies for staying productive. Every month we'll feature a new guest and the tricks that keep them working smart. Know someone you'd love to see featured? Email Us.