For our nineteenth interview series, we feature Gus Mueller, President at Flying Meat. Flying Meat is a software company that makes awesome apps for the Mac.
In this interview, you can read more about his work at Flying Meat, favorite marketing tools, productivity tips as well as his advice for budding marketers.
Your location: Mukilteo, WA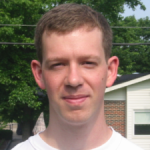 Your favorite gadget: A Leatherman Freestyle (closely followed by a Leatherman Juice S2)
You start your day with: Coffee.
Your favorite time-saving trick: Don't miss out on quality sleep. A tired brain is a worthless one.
Your top 3 blogs you read daily: Daring Fireball , Hacker News , The Art of Animation
"Focus on your product. Take it slow and easy, and realize that success happens over years, not overnight.."
Describe an average day at Flying Meat?
I usually get into the office about 9:30, and I spend most of the morning answering support email, and then I'll browse the news for the day and read anything that I think sounds interesting. Late morning and the afternoon are usually spent working on Acorn, or some other activity like taking care of the website.
I usually get a coffee in the morning, and then a coffee after lunch at a little cafe within walking distance of the office. I'll also take that time to do about 20 minutes of sketching.
As a founder/ marketer, what are some of your favorite productivity hacks?
I put anything related to work that needs to be done into our bug tracker (FogBugz is what we've been using for years). I don't want that stuff sitting around in my head distracting me.Anything else that might be tumbling around in my head will get written down into VoodooPad. I really try to minimize the amount of "cognitive overhead" I have to deal with.And slightly related to this, if I'm finding myself completely from too much work (like if I'm getting ready to do a big release) and my mind is everywhere at once, I find that doing a little bit of meditation really helps — somewhere between 10 and 20 minutes a day. I view it as focus training.
As a person who is well-versed with online marketing/ inbound, I'm sure you rely on a few marketing tools to automate your efforts. What are the top 3–5 tools you use?
I send a newsletter out about once a year (using Amazon's SES service). Otherwise, I just try and make a good product and let my customers do my marketing for me (they'll let their friends know if they have found a product they love).
What is your strategy for getting people to your site and then converting them to a customer?
Make something that they want enough to spend a little bit of money on.
Is there any advice you'd like to give to budding marketers to help them work smart and stay productive?
The best advice I can give is to focus on your product. Take it slow and easy, and realize that success happens over years, not overnight.
A big thanks to Gus for taking the time out to answer these questions! If you haven't already, I highly recommend that you check out Flying Meat.
The 'How Marketers Stay Productive' series asks marketers their tips & strategies for staying productive. Every month we'll feature a new guest and the tricks that keep them working smart. Know someone you'd love to see featured? Email Us.