This week we feature, Hagi Trinh Content Marketer at Recruitee . A global recruitment platform that offers resources, advice, and connection opportunities for both job seekers and recruitment professionals.
In this interview, you can read more about her work at Recruitee, favorite marketing tools, productivity tips as well as her advice for budding marketers.
Your location: The Netherlands.
‍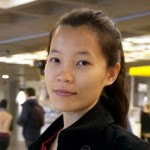 ‍
Your favorite gadget: Pens and Papers.
You start your day with: Reading my saved articles in Pocket.
Your favorite time-saving trick: Recognize your routine and optimize them every day.
Your top blogs you read daily: Recruitee blog, RecruitingBlogs, most stuff on Medium.
"Be observant and look at everything from multiple angles."
Describe an average day at Recruitee?
I would come to the office, grab a mug of water, sit down, and plow through all things that gave me notifications throughout the previous night: emails, Slack, Trello, Twitter. I would prioritize working on the most important and urgent things first. We have lunch around 12:30–13:30. Then I would continue on the most important and urgent thing. Once I finish that, I would work on the next important, but not so urgent things. I would go home around 18:00–19:00.
As a marketer, what are some of your favorite productivity hacks?
First is to prioritize things. You have to know very clearly what needs to be done, let others know that you're working on it, and arrange all the unexpected tasks after it. It's tough. Because more often than not, the things with high priority requires lots of focus and time. It's tempting to pause that to work on more trivial, easy-to-do tasks. In other words: to procrastinate. Whenever I find myself doing that, I get up and take a small walk around. Even if it's only 3 minutes, it's enough to set my mind back to the priorities.
Second is to aim for the best. If I'm writing a blog post, aim to make it the best it can be. If I'm distributing content, aim to make the best strategy out of it. This self-challenge mindset helps me focus better on the task at hand, and also gives me more fulfillment once I complete the task.
As a person who is well-versed with online marketing, I'm sure you rely on a few marketing tools to automate your efforts. What are the top 3–5 tools you use?
Notify: This helps me stay updated the instant someone mentions Recruitee.
Pocket: This helps me read more articles and save ideas for later.
Grammarly: This helps me do the final proofreading.
Your company has a growing community of users. How do you use this treasure trove of customer insight to power your marketing efforts?
We talk with every user we have to learn what their problems are, how they find us, how they use the platform, what feedback they have. We reflect often on these to adjust the way we communicate with potential customers, whether it is focusing on some certain channels, changing the tone, tweaking the visuals, or highlighting certain features.
What is your strategy for getting people to your site and then converting them to a customer?
We provide our target customers with lots of content value. As we realized early that our tool — Recruitee — only solves a fraction of the problem our customers are dealing with, namely hiring and recruiting. By providing the content, we aim to create an ecosystem, in which people can always rely on when it comes to hiring. Our blog posts share the latest tips and advice on recruiting. Our resources, like the job description templates, help people save time in the hiring process. Our guest posts connect people in the industry. Our answers highlights the trends and best practices of hiring. All these content mentions and points back to our site. This helps build awareness and keeps Recruitee on our potential customers' mind. We also have several campaigns going on that give them extra incentives when they need to use our platform.
Is there any advice you'd like to give to budding startup marketers to help them work smart and stay productive?
It would be one thing: be observant. At the beginning, you might not know what to do or how to do something. You might not work smart. You might not be productive. This doesn't matter, as long as you realize that, and constantly look for ways to improve yourself. Be observant and look at everything from multiple angles. You would know by then what you should do and how you could do it best.
A big thanks to Hagi for taking the time out to answer these questions! If you haven't already, we highly recommend that you check out Recruitee.
The 'How Marketers Stay Productive' series asks marketers their tips & strategies for staying productive. Every week we'll feature a new guest and the tricks that keep them working smart. Know someone you'd love to see featured? Email Us.