This week we feature, Ilse Schoemaker Inbound Marketing Strategist at Trekksoft. Trekksoft is online booking software used by tour operators and activity provider businesses in 121 countries. The system includes online rental and payment features.
In this interview, you can read more about her work at Trekksoft, favorite marketing tools, productivity tips as well as her advice for budding marketers.
Your location: Interlaken, Switzerland.
‍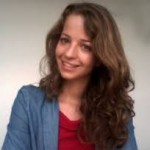 ‍
Your favorite gadget: Macbook Air.
You start your day with: Either a walk, a swim or some snowboarding.
Your favorite time-saving trick: Plan concentration intensive tasks in the morning.
"Customer insight is part of the core foundation of our company."
Describe an average day at Trekksoft?
On Monday, Wednesday and Friday I start the day with a 30min meeting with the department heads and management team of our organization. During the dep. head meeting, we evaluate KPI's, tasks of high priority and discuss long term strategies all to ensure a high level of efficiency and transparency within the organization. Besides those morning meetings, there is little consistency in my working days.
Average days are quite rare at TrekkSoft. We are a young startup that is growing rapidly, so I spend a lot of time tackling problems that suddenly arise. We also receive a lot of freedom to plan our week according to our own wishes. When there's fresh snow, I love to go snowboarding in the morning and come to the office after lunch and make up for the hours in the evening.
Admittedly, the dynamic work environment often challenges my productivity, but it has also made me develop these skills much faster. The flexibility within the company and the wide range of responsibilities is also exactly what makes me love my job.
As a marketer, what are some of your favorite productivity hacks?
I'm a big fan of the Pomodoro technique! I am in full concentration mode for 25 minutes and then give myself a break of 5 minutes. I learned that dividing my morning in smaller blocks allows me to get more work done. Tasks that seem huge to tackle appear smaller if you start with committing to it for just 25 minutes. I enter my full concentration mode and try to avoid all distractions that are irrelevant to the task. It's very motivating to see how much work I achieved after the first session of 25 minutes, that it motivates me to do a few more 25min sessions. Before I know it, this supposedly huge task is already done.
As a person who is well-versed with online marketing, I'm sure you rely on a few marketing tools to automate your efforts. What are the top 3–5 tools you use?
- Slack > I love the simplicity of slack for internal communication with my coworkers. A great feature is the reminder function of Slackbot that quickly set up alerts.
- Google apps > Google docs, sheets and slides, I like to keep everything in the cloud so that I can always access my files across devices. I also have frequent google hangouts with remote workers to stay involved and updated on the process of projects.
- Focus Booster > Focus booster helps me apply the pomodoro technique at work. The desktop app is basically a timer that alters a 25 minute block with a 5 minute break.
Your company has a growing community of users. How do you use this treasure trove of customer insight to power your marketing efforts?
Customer insight is part of the core foundation of our company. TrekkSoft wasn't formed in an incubator, it was developed in Europe's adventure capital by a tour operator that felt a direct and immediate need for booking software. What started as an in-house solution grew into one of Switzerland's most successful startups with a loyal customer base across 121 countries. How we achieve this growth? By continuously gathering feedback from our customers that are structurally sharing it across departments.
Is there any advice you'd like to give to budding startup marketers to help them work smart and stay productive?
Move! You're more likely to think of creative and innovative ideas if you stay active. Whether you are struggling with a writer's block or feeling lost in data reports, you're much more likely to find a solution or find a new source of motivation if you get on your feet and start walking around. Provide yourself and your employees with office toys. The ping pong table, balance board and the darts in our office may seem like a distraction but it actually helps us to get away from our computers, have informal work discussions and return to our desk with a clear mind.
A big thanks to Ilse for taking the time out to answer these questions! If you haven't already, we highly recommend that you check out Trekksoft.
The 'How Marketers Stay Productive' series asks marketers their tips & strategies for staying productive. Every week we'll feature a new guest and the tricks that keep them working smart. Know someone you'd love to see featured? Email Us.