This week we feature Jacob Firuta, Customer Success Manager at LiveChat. LiveChat is a solution dedicated for e-commerce and customer care that enables your website visitors to chat live with your customer support.
In this interview, you can read more about his work at LiveChat, favorite marketing tools, productivity tips as well as his advice for budding marketers.
‍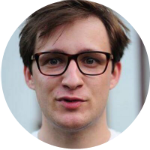 ‍
Your location: ​Wrocław, Poland.
Your favorite gadget: Garmin Fenix 3.
You start your day with:​ A cup of tea and reaching 'Inbox Zero'.
Your favorite time-saving trick: Blocking distracting sites using console commands.
Your top 3 blogs you read daily: https://www.groovehq.com/blog, http://blog.crazyegg.com/, http://sethgodin.typepad.com.
"We are fascinated with the prospect of measuring what our users do and how they act.​"
Describe an average day at LiveChat?
The mornings are pretty tame and relaxed. That changes quickly when more and more people arrive at the office. When we have everyone in one place, that's when the biggest projects tend to be discussed and executed. That's also when it's the loudest! Sometimes you can hear us from the street either laughing or shouting or both. After that mid-day peak, everyone starts to cool down. But that doesn't stop our productivity. You can often see people staying in the office to the wee hours of the night to wrap something up.
As a Marketer, what is your favorite productivity hack?
1. Making a list of things I can realistically do today and following it throughout the day. This way I can focus on finishing smaller tasks that eventually lead to completing a big project. If everything on your to-do list is written down as "Publish article on X" or "Write a report on Y," it can get a bit intimidating. But it you brake it up a bit and have "Prepare a plan for article on X," "Find a title graphic for report on Y" and so on, it's suddenly much easier to tackle.
2. Setting up personal deadlines. If you have a project that you need to finish, but you don't have specific deadline, it's easy to drag it out forever. Once you set it a deadline for it, there's no coming back and you simply need to complete it. When you decide on a date, be rigorous. Ask yourself, "When is the earliest I can have this finished" and go with that. Even if you fail to meet the deadline, you will probably have a fair share of the work already wrapped up and the remaining bit will require only a bit more effort.
3. Arrive at work early. Once you get in the habit of getting up early and arriving at work well before anyone else, you get a head start in the day. You can take care of all the things you can do on your own before people start arriving at the office. Once they do, you can focus on projects that require several people.
As a person who is well-versed with online marketing/ inbound, I'm sure you rely on a few marketing tools to automate your efforts. What are the top 3 tools you use?
1. Google Keyword Planner and Quora for discovering and researching new article ideas. 2. Buffer for streamlining social media promotion on several channels from one place. 3. BuzzSumo for finding influencers who might be interested in my content and also for topic research.
Your company has a growing community of users. How do you use this treasure trove of customer insight to power your marketing efforts?
We are fascinated with the prospect of measuring what our users do and how they act. Using tools like Amplitude, we can first discover how they use our software and then optimize their experience. We also actively listen to our customers. When we see a good suggestion on a possible topic, we are quick to use it.
What is your strategy for getting people to your site and then converting them to a customer?
Since we spend almost nothing on ads, we focus on converting organic traffic through strong, value-oriented propositions. We show potential customers how LiveChat can change the way they are contacting their user base. We also identify industries where LiveChat has an established presence, e.g. hosting providers and forex platforms, and try to leverage that to convert even more businesses from those industries into customers.
Is there any advice you'd like to give to budding marketers to help them work smart and stay productive?
I can share one of the key rules that always guided our actions and decisions: keep it simple. If you have something that people find useful, it's easy to ruin that by adding unnecessary noise to your product. It's your job to safeguard that value. If your product is targeted at a wide audience, you want to keep it a simple and easy to use as possible.
A big thanks to Jacob for taking the time out to answer these questions! If you haven't already, we highly recommend that you check out LiveChat.
Managing marketing projects shouldn't be chaotic — Try Brightpod for free and start focusing on what matters.