This week we feature Jamie Bell, Marketing Coordinator at Flywheel. Flywheel is hosting infrastructure enabling web designers, freelancers and creative agencies to launch and manage WordPress websites.
In this interview, you can read more about her work at Flywheel, favorite marketing tools, productivity tips as well as her advice for budding marketers.
Your location: Omaha, Nebraska Jamie.
‍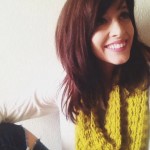 ‍
Your favorite gadget: Nikon D5000.
You start your day with: A cat clawing at my face
Your favorite time-saving trick: Having a second monitor
Your top 3 blogs you read daily: 99U , Design Love Fest , The Content Strategist
"Know how you handle stress and what you have to do to relieve it."
Describe an average day at Flywheel?
The day always starts with a department stand-up meeting where we chat about what we've done, what we will do and what we need to do it. From there, it's a total free-for-all. For me, sometimes the day is just emails and partnership calls; other days we're creating an all-staff video or holding beer + brainstorm meetings for our creative projects.
As a marketer, what is your favorite productivity hack?
I am such a huge proponent of the "one-touch rule" — meaning that you should touch an email once and only once. When you open an email, take action immediately, whether that's a reply, forwarding it to the right person or just tossing it in the trash.
Stepping back from the day-to-day grind and giving yourself time to think about the big picture is so, so key. I try to keep an hour or so a week free to add to my list of marketing ideas, make sure we're on track to hit our quarterly goals, and chat with other departments about how we can better work together in general.
Lastly, know how you handle stress and what you have to do to relieve it. If you get bogged down and stressed out during the day, chances are that the remainder of the day isn't going to be productive. Take a walk, listen to some stand-up comedy, watch a puppy video on YouTube; just knowing how you can lift your spirits and relax a little bit will do wonders.
As a person who is well-versed with online marketing/ inbound, I'm sure you rely on a few marketing tools to automate your efforts. What are the top 3 tools you use?
Hubspot — We recently transitioned to using this. There have been growing pains along the way, but the potential is huge and really exciting.
Google everything — Analytics, Docs, Sheets…everything except Plus, of course.
Slack — The integrations are awesome, although I'm not sure that the Giphy one actually adds to our productivity. :)
Trello — I'm a list person, so this is a dream both for jotting down ideas and actual project management.
There are other hosting companies out there. How does Flywheel stand out and how do you convey that in your marketing messages?
We're the only WordPress hosting company that's specifically built for designers and creatives, so we have awesome tools that make it really easy for designers and developers to get back to what they love and not mess with plugins, passwords, and complicated processes. We offer free migrations, client billing transfers, and the ability to add a collaborator on your site(s). Design is also a key part of all of our own marketing materials, and we really focus on crafting pieces that display that.
How do you drive traffic to your site and what top 3 strategies you'll use to convert people into paying customers?
General awesomeness/designer referrals, social media and providing a lot of free information via our design publication, The Layout. We offer a free trial of our hosting services, free migrations, and a wealth of available knowledge and resources (including our WordPress support team).
Flywheel has a growing community of users. How do you use this treasure trove of customer insight to power your marketing efforts?
We work on features almost exclusively based off of what our customers are asking for; staging sites was a huge request, and we just rolled out the beta version of that a couple of weeks ago. Beyond that, we create ebooks and content for The Layout based off of topics that web designers are interested in at all stages of their careers; anything from how to get clients for your agency to tools that will make basic web designing easier.
What's one trend that really excites you?
Interactive storytelling — it's such a wonderful way to connect with people, not just through your content, but through web elements, layout and navigation. I love what Pollen is doing in particular!
Tell us something about you that very few people know?
I was in Vanity Fair last year because of a group costume where I dressed up as Mugatu from "Zoolander." Was this supposed to be work-related? :)
Is there any advice you'd like to give to budding startup marketers to help them work smart and stay productive?
Break large projects down into smaller tasks, use a time-tracking app (I like Toggl) to see how/where you're spending your time, and learn new aspects and areas of your industry. If you're at a startup, odds are that you're going to have to wear a LOT of hats (or it can benefit you immensely to do so). If there's an area that you aren't proficient in, or that your company isn't proficient in, work to learn it.
A big thanks to Jamie for taking the time out to answer these questions! If you haven't already, we highly recommend that you check out Flywheel.
The 'How Marketers Stay Productive' series asks marketers their tips & strategies for staying productive. Every week we'll feature a new guest and the tricks that keep them working smart. Know someone you'd love to see featured? Email Us.