This week we feature Jason Anderson, Founder of Datagame. Datagame is the DIY survey gamification platform that enhances surveys and digital content with interactive games to increase engagement and response rates.
In this interview, you can read more about his work at Datagame, favorite marketing tools, productivity tips as well as his advice for budding marketers.
Your location: Kansas City, MO.
‍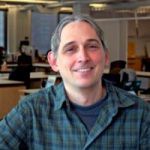 ‍
Your favorite gadget: My new Oculus Rift VR headset.
You start your day with: A scan of Slack, email, and Google News.
Your favorite time-saving trick: No meetings longer than 10 minutes.
Your top blogs you read daily: Reddit (various), Gamification, Greenbook.
"We care quite a lot about consumer feedback."
Describe an average day at Datagame.
On most days, we have three general work streams we're managing: our content marketing editorial calendar, custom client projects, and bug fixes and feature development for the Datagame platform. We use Trello to prioritize our daily and weekly activities, and Slack for internal communication, so most of our time is spent either doing work or updating these status boards. We rarely have meetings — it's a more fluid, real-time sort of environment.
As a startup founder, what are some of your favorite productivity hacks?
Slack is hardly a secret these days, but it's saved us huge amounts of email and has let us eliminate most of our internal meetings. We use a variety of bots and plugins on our Slack account, so most of our server and social media monitoring can all flow into channels. It minimizes the number of systems to login to and makes everything mobile-accessible. On the marketing productivity side, we've gotten pretty good at defining the line between what is OK to outsource and what is better done internally. Our service is somewhat specialized, so we write most of our own content, but use services like Fiverr and Upwork for other bits of the marketing pipeline such as creatives and server / site improvements.
As a person who is well-versed with online marketing, I'm sure you rely on a few marketing tools to automate your efforts. What are the top 3–5 tools you use?
We use Moz for SEO monitoring and keyword research, Spyfu for competitive intelligence, MailChimp for newsletter and other email campaigns, and Zapier to trigger various behavior-based marketing responses. We also integrate our app directly with MailChimp's automation API for drip email campaigns.
Your company has a growing community of users. How do you use this treasure trove of customer insight to power your marketing efforts?
Datagame was originally born in a consumer research agency, so we care quite a lot about consumer feedback. Most of our new feature development pipeline originates from customer ideas, or from feedback gathered at events. We also regularly check our search data to see what people are searching for when they find us, and creating new content that better answers those questions.
What is your strategy for getting people to your site and then converting them to a customer?
Datagame has a traditional "free trial" funnel: a feature-limited, free version and tiered upgrade levels based on desired functionality. We build awareness through a combination of display ads, content marketing, and event marketing.
Is there any advice you'd like to give to budding startup marketers to help them work smart and stay productive?
There's a tension between doing everything yourself (with a higher level of knowledge about your business) and outsourcing (presumably to more efficient workers at a lower labor cost). Finding the right balance is not easy, but very important. You can burn through cash very quickly if you get too aggressive about hiring people/contractors, or too broad with your digital ad targeting.
A big thanks to Jason for taking the time out to answer these questions! If you haven't already, we highly recommend that you check out Datagame.
The 'How Marketers Stay Productive' series asks marketers their tips & strategies for staying productive. Every week we'll feature a new guest and the tricks that keep them working smart. Know someone you'd love to see featured? Email Us.