This week we feature Jason Rodriguez, Community Manager at Litmus. Litmus is an email testing service for web and marketing professionals allowing users to preview their email campaigns across email clients and devices.
In this interview, you can read more about his work at Litmus, favourite marketing tools, productivity tips as well as his advice for budding marketers.
Your location: Detroit, MI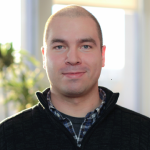 Your favorite gadget: My iPhone. It's awful how attached to it I am, but I use it for everything — photography, catching up on news, taking notes, Twitter, and, of course, email.
You start your day with: My five year old yelling that she's ready to get out of bed.
Your favorite time-saving trick: Writing a to-do list for the day. Saves me a lot of time that would later be spent trying to figure out what I was supposed to get done at any given time.
Your top 3 blogs you read daily: I typically get my internet fix from either Designer News or Hacker News, but if I had to pick three of my favorite blogs they would be the Help Scout, Wistia, and Campaign Monitor.
"Our customers tend to love us and like to make that love known to the world"
Describe an average day at Litmus?
I know it's trite to say it at this point, but there really isn't an average day at Litmus. Since we're a small team, we all wear a lot of different hats and work on a variety of projects. As the Community Manager, I usually start most days catching up on discussions in the Litmus Community. I write a lot, so on any given day I could be working on a new blog post, some content for the Community, or helping out with email or marketing copy.
There's always another email to design and build. While our designer Kevin usually handles them, every once in a while I'll get my hands dirty and code something up. On occasion, I'll also do some illustrations for both the blog and the Community, work on slides for webinars or presentations, and troll fellow employees with Photoshop and embarrassing team pictures.
As a marketer, what are some of your favorite productivity hacks?
Honestly, I think the best hack is to just cut through some of the bullshit that goes along with pretty much anything and just get stuff done. I could spend all day writing emails, updating various people on statuses, posting to Basecamp and asking for permission, but that ultimately won't get me or the company anywhere. As much as possible, I try to cut through that and focus on getting tangible work done. Write, edit, post, share, get feedback, revise.
As a person who is well-versed with online marketing, I'm sure you rely on a few marketing tools to automate your efforts. What are the top 3–5 tools you use?
We recently started using Pardot, which has been amazing for automating a lot of things. Some of our other favorite tools include Help Scout for managing support tickets and helping out our awesome customers, and Sprout Social for keeping up on all things social. We typically don't automate social stuff, as we like to interact with our customers in real-time and on a personal level. Sprout Social makes that easy for the entire team.
How do you drive traffic to your site and what top 3 strategies you'll use to convert people trying the app into paying customers?
Litmus is all about creating great content not only for our customers, but the larger email design and marketing community as well. We've found that readers of our blog are amazing about sharing our content, so a lot of our traffic comes from social sharing on their end. Through talking with customers at conferences and events, we've also found out that word-of-mouth comes into play, too. We're in the fortunate position of having a lot of users that not only love us, but are very vocal about that fact.
Our Email Marketing Manager, Matt, has been testing out a lot of new strategies for converting trial users into paying customers, so a lot of those conversions are driven by email campaigns. Educating users about the product also helps. A lot of customers come to Litmus to use our Email Previews tool, without knowing that we offer a bunch of other QA tools, as well as an amazing Email Analytics service. Once they know about those, it's easier to make the case that Litmus is an invaluable part of the email marketing process.
Litmus has a growing community of users. How do you use this treasure trove of customer insight to power your marketing efforts?
Like I said before, we are in a very fortunate position. Our customers tend to love us and like to make that love known to the world — especially on Twitter. We interact with them a lot there and use it as an opportunity to see what approaches and types of content (we are content marketers, after all) resonate with our audience. From there, we can fine-tune a lot.
Is there any advice you'd like to give to budding marketers to help them work smart and stay productive?
Not really, other than make a list of what needs to get done and start doing it. I'm admittedly still new to this game and I'm learning a lot every day. I'll be the first to say that I occasionally screw up. Fortunately, I have an amazing team on my side that calls me out on any stupid ideas and catches all the things that I miss. If you can find a team like that, you'll naturally work smart and stay productive. There are a few more things we will be mentioning along with the post. Just a word or two for the following would be fine.
Finally, just talking to trial users that don't convert can be a great way to identify problems and refine our products. Even if they don't turn into paying customers, that knowledge is vital for making Litmus better and improving the experience for future trial users.
A big thanks to Jason for taking the time out to answer these questions! If you haven't already, I highly recommend that you check out Litmus.
The 'How Marketers Stay Productive' series asks marketers their tips & strategies for staying productive. Every month we'll feature a new guest and the tricks that keep them working smart. Know someone you'd love to see featured? Email Us.