This week we feature, Jenni Brown, Senior Social Media and Content Marketing Specialist at Cronofy. The Cronofy API allows developers to integrate with their users' calendars no matter which calendar services they use.
In this interview, you can read more about her work at Cronofy, favorite marketing tools, productivity tips as well as her advice for budding marketers.
‍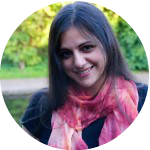 ‍
Your location: ​Nottingham, England. It's got an amazing digital community that I feel very lucky to be part of.
Your favorite gadget: My phone (a Samsung Galaxy K Zoom). It's not the coolest on the block, but it takes amazing photos that are perfect for social media marketing.
You start your day with:​ A pile of cats and social media browsing.
Your favorite time-saving trick: At the end of the day, write a to-do list for tomorrow so you stay a step ahead.
Your top 3 blogs you read daily: sorryformarketing.com, jamesaltucher.com, moz.com/blog.
"Using the same piece of content in multiple ways is key to optimizing productivity whatever you're marketing."
Describe an average day at Cronofy?
Cronofy is a calendar integration API that makes life a lot easier for developers working with the Google, Outlook.com, Office 365, Apple iCloud and Exchange calendar APIs. It's a highly technical product to market, but we try to make it as fun and interesting as possible, which is reflected in the people we have in our team and how we work.
We have staff in different cities, so a lot of communication is done through Slack. The average day consists of plenty of gifs, including gifs that reference other gifs for when we want to be super meta. We don't have meetings often, but when we do they typically involve burgers or cake. It's a small company, but everyone is really hands-on with the marketing which makes my job a lot easier; when you have developers doing content marketing of their own accord you know you're on to a winner.
As a marketer, what are some of your favorite productivity hacks?
I love lists, so I use a combination of Trello and ToDoist to stay on track, create projects, and assign tasks. I also have RescueTime running in the background for an exact breakdown of how much time I'm spending on what. One of my favorite tips is to create an image store for your blog so you're never wasting time searching around for a good photo or illustration. As we have a WordPress blog, I installed the WP Media Category Management plugin and created a collection of high-quality free images from websites like Pixabay, organizing them using simple category names so there's a good stock of images to hand for anyone writing a post.
Using the same piece of content in multiple ways is key to optimizing productivity whatever you're marketing. Talks are converted into videos and slide decks, blog posts are summarized in newsletters, and pages are kept in the limelight with fresh updates, shares, and accompanying how-tos.
As a person who is well-versed with online marketing, I'm sure you rely on a few marketing tools to automate your efforts. What are the top 3–5 tools you use?
I use a combination of Feedly Pro and Buffer for social media scheduling, picking out the best third party content from my reader each week to complement Cronofy content and retweets.
Moz Pro is my go-to tool for managing on-page SEO, tracking position and traffic changes, and highlighting potential improvements for pages quickly and efficiently.
MailChimp is a lifesaver when it comes to sending emails; no more fussing with bits of code or trying to fix browser/client bugs manually — they just work. I love the data that's generated for each campaign too: it includes everything from open rate to in-depth split testing results.
Your company has a growing community of users. How do you use this treasure trove of customer insight to power your marketing efforts?
What makes Cronofy so exciting from a marketing perspective is also its biggest challenge: it offers a service so different that literally no one else doing it at the moment. It's a great opportunity to be groundbreaking, but it's also difficult because figuring out what people want from such a new, technical product is always a work in progress…especially as they often don't know themselves. User feedback is therefore a key ingredient for us, and it's filtered through every part of the company so it makes an impact everywhere.
In marketing, we've used it to see the features visitors are most interested in, the questions they want answering, and the types of posts and pages they find appealing. Heatmapping has been a particular goldmine for us; having FAQs where people click to expand the answer means we have a lot of data on the questions people are actually interested in having answered. Twitter is also a fantastic source for us as end-users are very positive about our sample apps, particularly our Slack Calendar Integration and Evernote Calendar Connector (it's easier to market those to a wide audience compared to a raw API). Encouraging direct feedback via email and support tickets has also helped us pinpoint the hero benefits for marketing messages.
What is your strategy for getting people to your site and then converting them to a customer?
As Cronofy is so young, a big part of our current focus is getting our name and product out there. Marketing an API requires careful use of personal interest content, which means that we aim for a mix of technical information, how tos, and practical advice. Problem-solving is the main part of what we do as a service, and this is reflected in the blog content with posts that are targeted but easy to get on board with, such as Stop apologizing for your work and The developer's guide to social media.
Crazy Egg is one of my favourite tools for tracking visitor drop-offs and monitoring calls to action on the website to see what works. We also use Perfect Audience for building conversions through remarketing. Improving on-site experience is an on- going focus for us; we recently simplified the sign up process and added new website pages to provide more detailed information on how the Cronofy API works and the benefits.
Is there any advice you'd like to give to budding startup marketers to help them work smart and stay productive?
There's an ever-growing amount of noise out there and a lot of buzzwords and clickbait titles thrown around focusing on things marketers 'must' do and how 'X is dead' (or not dead). It's all too easy to get pulled in a lot of different directions and lose focus, or worry that everyone else is one step ahead. Always do your own testing and use your own data, building on that to improve your results rather than relying on industry stats or marketing predictions. Trust your instincts; you're the one in the best position to know what works for your audience and your industry, especially if you're working for a disruptive company.
I've learned that the most important factor for productivity is actually to do less. It's very easy to end up working 24/7 and living in a constant state of burnout because there are always more tasks you can do. It's vital to set boundaries so you continue to stay on top of your game.
A big thanks to Jenni for taking the time out to answer these questions! If you haven't already, we highly recommend that you check out Cronofy.
Managing marketing projects shouldn't be chaotic — Try Brightpod for free and start focusing on what matters.