This week we feature Jesse Terry, Founder of FusionInvoice. FusionInvoice is a self hosted invoicing system for freelancers and small businesses.
In this interview, you can read more about his work at FusionInvoice, favorite marketing tools, productivity tips as well as his advice for budding marketers.
Your location: Flagstaff, AZ.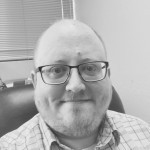 Your favorite gadget: Every Apple device ever.
You start your day with: Making sure my customers are happy and taken care of.
Your favorite time-saving trick: If you sit down to work and your eyes just aren't seeing what's in front of you, don't force it. Get back up, go away, come back later.
Your top 3 blogs you read daily: I'm more of a feed skimmer than a blog reader, although Amy Hoy (http://unicornfree.com) is somewhat of a hero of mine and I do enjoy reading her thoughts.
"As long as I stick to picking items off the list and getting them done, I stay pretty productive."
Describe an average day at FusionInvoice?
FusionInvoice is currently a side project of mine which I hope continues to scale to something substantial enough to eliminate my need for the dreaded day job. Having said that, it's a lot of time during the evenings and weekends spent toward that goal, and always begins and ends with taking care of support requests to make sure the customers are taken care of and happy. Being a relatively young product, I'm still spending quite a bit of time developing new planned features, along with taking care of customers, researching the market, and trying to find major pain points that FusionInvoice can help to eliminate along with everything else.
As a marketer, what is your favorite productivity hack?
First and foremost, which isn't often a choice for some, I am married to the most supportive person on the Earth and we have no kids. Having no kids is probably the most substantial time-saver ever, or at least I imagine it to be. Other than that, my mind tends to wander a lot if left up to its own bidding, so I do my best to always sit down to work with a clear picture of what it is I need to accomplish at that time. As much as I hate to admit it, simple lists probably do me more good than anything else. As long as I stick to picking items off the list and getting them done, I stay pretty productive. If an idea occurs to me, if I don't put the idea on the list for review later, I'm in danger of falling down the never ending rabbit hole… so STICK TO THE LIST!
As a person who is well-versed with online marketing/ inbound, I'm sure you rely on a few marketing tools to automate your efforts. What are the top 3 tools you use?
I'm one of those "always been a developer but new to this marketing stuff" types, so honestly I really don't have any tools or knowledge to speak on. I'm learning as I go.
Your company has a growing community of users. How do you use this treasure trove of customer insight to power your marketing efforts?
I'm going to refer to the question above for this answer, but also add that I take every opportunity I get to engage with people to learn about their specific and unique pain points. FusionInvoice was designed primarily to solve a problem for those who want a quality product to maintain their invoicing and online payments without having to pay a monthly fee or keep their sensitive data on some other company's server, and it does this by being offered as a self-hosted product. One payment — it's yours, and you install it on your own hardware. Outside of that, there are so many other problems that the application solves, can solve and will continue solve over time by simply listening to people. My biggest fear is not being able to tap into the hive of those who choose to not engage, but those who do engage offer great value.
What is your strategy for getting people to your site and then converting them to a customer?
Everything I've ever done has been natural and organic. I've never gone out of my way with any fancy marketing campaigns or anything like that. This also helps to ensure the product doesn't grow outside of my control while the company is still just me. I like slow and steady, but that's just me. In terms of the site itself — simple and minimal. Leave no question about the problem the product is going to solve.
Is there any advice you'd like to give to budding marketers to help them work smart and stay productive?
I'm not really sure I'm qualified whatsoever to answer this — I've only been at it since April 20th of this year! It always helps to do something you're passionate about, but also to do it in a way you're passionate about. We've only got this one life to muck around and do whatever it is we're going to do to leave our little marks on this world. Don't waste it.
A big thanks to Jesse for taking the time out to answer these questions! If you haven't already, I highly recommend that you check out FusionInvoice.
The 'How Marketers Stay Productive' series asks marketers their tips & strategies for staying productive. Every month we'll feature a new guest and the tricks that keep them working smart. Know someone you'd love to see featured? Email Us.