This week we feature Kerry Hayden, Marketing Coordinator at HouseCall Pro. HouseCall Pro is a cloud-based field service management app for service professionals to automate their workflows.
In this interview, you can read more about her work at HouseCall Pro, favorite marketing tools, productivity tips as well as her advice for budding marketers.
Your location: San Diego, CA.
‍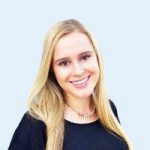 ‍
Your favorite gadget: My iPhone. I'd be lost without it (literally, considering how much I rely on map apps for directions). With all the awesome apps and information at my fingertips, my smart phone has become an essential.
You start your day with: Every day I wake up early and give myself time to make breakfast and coffee. My morning ritual sets the tone for the day as it gives me the energy I need to stay alert and productive.
Your favorite time-saving trick: Cutting out distractions saves a ton of time! Block certain domains temporarily, if you must. For example, if you tend to spend too much time on Facebook, you can use a tool like the one offered by Self Control to prevent yourself from accessing that website until you get your work done.
Your top blogs you read daily: I gather marketing intel via the Hubspot blog, Intercom blog, and the AdEspresso blog.
"Work smarter, not harder! Automate as much as you can to save time."
Describe an average day at HouseCall Pro?
There is no such thing as an average day at HouseCall Pro! Since we are a tech startup, we move at light speed. New challenges and opportunities present themselves every day, so we are always learning and growing. In my role, I wear many hats. I manage our public relations efforts, create inbound marketing content for the HouseCall Pro Blog, write email copy, plan and attend our exhibitions at industry events, and more. As you can see, my days are far from predictable, which keeps my days exciting!
As a startup founder/ marketer, what are some of your favorite productivity hacks?
Listening to music helps me stay on task! Since we work in an open-concept office with everyone in the same room, it can sometimes get distracting to hear everything going on around me. When I need to focus, I pull up a playlist to help me concentrate, put on my headphones to deter coworkers from approaching me, and tune out the noise. Studies show that listening to music actually boosts productivity over working in silence, so we always have music playing in the office!I strongly believe in the idea that keeping a clean and organized environment improves focus. Since I spend so much time at my desk, I ensure it is welcoming and neat. Keeping a tidy workspace allows my mind to be free of distractions and allows me to stay motivated and concentrated on the tasks at hand.
As a person who is well-versed with online marketing, I'm sure you rely on a few marketing tools to automate your efforts. What are the top 3–5 tools you use?
We use Hubspot for our marketing automation. It allows us to schedule social media posts, which is a huge time-saver. Hubspot also serves as the hub of our inbound marketing efforts. Whenever we post a new article on our blog, we can automatically release it to our subscribers and social media with just one click.Another tool we use is Intercom. While this tool is primarily used for our Customer Success team to communicate with and provide help to our user base, we also use it for customer on-boarding and churn prevention.Lastly, we also use our own built-in marketing features to reach out to our users. HouseCall Pro offers automated postcard and email marketing capabilities. We designed postcards and emails and set up automated campaigns to go out everyone who had done a demonstration of our product, which served as another touch point and to show the power of marketing automation.
Your company has a growing community of users. How do you use this treasure trove of customer insight to power your marketing efforts?
Our Customer Success team, beyond providing fast and friendly assistance, also accepts and records feature suggestions. We add each company's vote whenever they offer a suggestion and then we build the features that have the most votes. Our customers love to see their suggestions implemented and enjoy knowing that their feedback truly makes a difference.
What is your strategy for getting people to your site and then converting them to a customer?
Of course, we use SEO strategies and Google Adwords to direct traffic to our website. Other ways we boost traffic include contributing to articles or blogs such as this, as well as by partnering with synergistic businesses. The main goal of our website is to convert visitors into customers by offering a free demo of HouseCall Pro. We include video testimonials, links to our reviews, information about our features, and the benefits of using our system to build trust with potential customers.
Is there any advice you'd like to give to budding startup marketers to help them work smart and stay productive?
Work smarter, not harder! Automate as much as you can to save time. With so many tools available to automate your tasks, do your research to find which ones are the best fit for you and your business.
A big thanks to Kerry for taking the time out to answer these questions! If you haven't already, we highly recommend that you check out Housecall Pro.
The 'How Marketers Stay Productive' series asks marketers their tips & strategies for staying productive. Every week we'll feature a new guest and the tricks that keep them working smart. Know someone you'd love to see featured? Email Us.