This week we feature Kristin Calve, Vice President at LiftMetrix. LiftMetrix instantly creates a customized social media marketing plan to drive your key business objectives. Social Media and Digital Marketers use LiftMetrix to evaluate each of their social media platforms, track their true ROI, and find opportunities to optimize their content strategy and buy ads smarter.
In this interview, you can read more about her work at LiftMetrix, favorite marketing tools, productivity tips as well as her advice for budding marketers.
Your location: New York.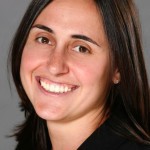 Your favorite gadget: Sonos speakers.
You start you day with: A diet peach Snapple and a trip to the bus stop with my 4 children.
Your favorite time-saving trick: Using Skype instead of email & text.
Your top 3 blogs you read daily: I don't really follow blogs; I use Twitter to follow the news and keep up with industry shift. I'm not sure about favorites, but 3 that I really enjoy following are Sarah Granger (@SarahGranger) , Gary Vaynerchuk (@garyvee), & Mark Suster (@msuster).
"When you're running a startup, you just have to keep moving forward.."
Describe an average day at LiftMetrix?
Every day at LiftMetrix is different. We are a small, extremely dedicated team. The sales & marketing team works closely with our developers to provide customer input and identify strategic partners for business development. One day we might each be working feverishly on our own projects, and the next day we might lock ourselves in a conference room to work together to solve a customer's problem. It is a great environment for people who are creative and willing to roll up their sleeves to get the work done.
As a founder/ marketer, what are some of your favorite productivity hacks?
Personally, I prefer spreadsheets. I manage multiple projects in them and have like being able to use numerous tabs and links. However, that doesn't necessarily work to manage team projects. As a team, we use a combination of Google Docs and Asana. By integrating those two, we are able to manage communications about timelines transparently and share live documents. For sales & marketing collateral, Dropbox works well to ensure that everyone has access to the most up to date materials at all times.
Your company has a growing community of users. How do you use this treasure trove of customer insight to power your marketing efforts?
We are extremely service oriented and high touch with our customers. Since our customers are also marketers and content developers, they give us extremely valuable feedback about how our product is helping them do their jobs better and help us prioritize new feature development. All of this helps us with our position in the market and sales process.
What is your strategy for getting people to your site and then converting them to a customer?
We primarily focus on 3 tactics.
1. Outbound sales — we contact marketers directly via email and phone and offer free trials and demos of our product.2. We are fortunate to receive great referrals from existing customers and investors.3. We are constantly creating unique content to drive more traffic to the site. In September we will be adding a webinar series to our content in an effort draw more people into demos and have the opportunity to discuss features with our data specialists directly. We also have a series of "how to" videos in the works.
Prospective customers are curious about our platform and our ability to calculate ROI in dollars and cents. Because we are currently offering a free trial, they are inclined to try out LiftMetrix to see what their ROI is in dollars & cents and see what our customized recommendations will tell them. Once they are on the trial, they do not want to lose access to all of the features and benefits.
Is there any advice you'd like to give to budding marketers to help them work smart and stay productive?
"The perfect is the enemy of the good", which I believe is a translation of a quote from Voltaire. When you're running a startup, you just have to keep moving forward. The product is not going to be perfect at launch, and neither are the sales & marketing efforts. You just have to get out there and get your hands dirty to see what will work and what won't. Also, a lot of people, including investors, are going to give you advice. Don't run around trying to take everyone's advice. Listen, take notes, and think about what makes sense and what doesn't before you change gears.
A big thanks to Kristin for taking the time out to answer these questions! If you haven't already, I highly recommend that you check out LiftMetrix.
The 'How Marketers Stay Productive' series asks marketers their tips & strategies for staying productive. Every week we'll feature a new guest and the tricks that keep them working smart. Know someone you'd love to see featured? Email Us.