For our seventeenth interview series, we feature Lance Padgett, SEO specialist at Formstack. Formstack is an online HTML form builder that lets you create all types of online forms — order forms, contact forms, registration forms, & online surveys.
In this interview, you can read more about his work at Formstack, favorite marketing tools, productivity tips as well as his advice for budding marketers.
Your location: Indianapolis, Indiana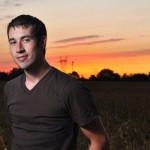 Your favorite gadget: Macbook Pro
You start your day with: Occasional coffee
Your favorite time-saving trick: Finding a quiet place in the office.
Your top 3 blogs you read daily : I wish I had time to read 3. I usually read the Moz blog.
"If you really want to be productive, close your email tab and only check it 2 to 3 times per day"
Describe an average day at Formstack?
As if there was an average day! Some days are quieter, and you're focused on your current project or campaign. Others are more heavy on meetings and brainstorming. There's always ping pong involved at our Indianapolis headquarters. Even though our team is remote and several of our employees live in other cities, we are always collaborating and cracking jokes, both offline and online.
As a marketer, what are some of your favorite productivity hacks?
I love to find a quiet place in our office to focus. If you really want to be productive, close your email tab and only check it 2-­3 times per day. I also use Gmail filters to flush out the email I get, but don't want in my inbox.
As a person who is well­ versed with online marketing, I'm sure you rely on a few marketing tools to automate your efforts. What are the top 3-­5 tools you use?
As an SEO specialist, I use the Moz tools quite heavily. I'm also frequently plugged in to Google Analytics, looking at trends and statistics. A simple Google search is probably my third "tool." I'm often going through search results, comparing metrics, etc.
There are other form building tools out there. How does Formstack stand out and how do you convey that in your marketing messages?
Formstack offers several features that cater specifically to the digital marketer and aren't offered on any other online form builder. For example, the Formstack app is 508 Compliant, which means our forms can be accessed by internet users with visual impairments. Formstack also offers a wider selection of in­-app integrations and mobile apps on iOS, Android and Windows Phones.
How do you drive traffic to your site and what top 3 strategies you'll use to convert people trying the app into paying customers?
We drive traffic through many channels. Direct traffic plays a big role for Formstack. We also focus on driving traffic via organic search by building targeted, useful content. We have a fun culture at Formstack so we try to leverage that on social media and throughout our website. Additionally, paid search ads and sponsorships close to our target market play a key role in driving traffic to our site. Our top three strategies for converting people to customers include building and showcasing helpful content, using email marketing to build a relationship with leads and new users, and helping our existing customers with issues via our awesome support team and social network profiles.
Formstack has a growing community of users. How do you use this treasure trove of customer insight to power your marketing efforts?
We often do case studies, feature blog posts, and even some videos on our customers. Every feature launch or product update ensures that our customers can have a better experience within our application. Being able to showcase how our customers use Formstack to make their business or department run smoothly inspires us to keep improving. Additionally, our product manager works with a Customer Advisory Board, which includes a sample of our target customer base, to plan product improvements and other projects.
Is there any advice you'd like to give to budding marketers to help them work smart and stay productive?
There are a lot of things to look for when you're combing through data for helpful trends and figures. Focus on the metrics that matter most to you and your business. Try and optimize those first so that you have a good foundation under you, then branch out to the smaller items.
A big thanks to Lance for taking the time out to answer these questions! If you haven't already, I highly recommend that you check out Formstack.
The 'How Marketers Stay Productive' series asks marketers their tips & strategies for staying productive. Every month we'll feature a new guest and the tricks that keep them working smart. Know someone you'd love to see featured? Email Us.