For our tenth interview series, we feature Laure Parsons, Chief Storyteller at Olark — helping to make the world a little bit happier through customer chat.
In this interview, you can read more about her work at Olark, favorite marketing tools, productivity tips as well as her advice for budding marketers.
Your location: NYC. Olark HQ is in SF.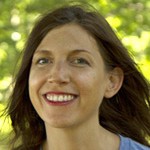 Your favorite gadget: My Nexus 5. (Because I don't have a Vitamix).
You start your day with: A cold glass of water.
Your favorite time-saving trick: Honestly, to try to do less at the same time.
"We're all interested in a common goal, to help people make a connection with their customers."
Describe an average day at Olark?
I don't mean to sound like a cliché, but there really is no typical day at Olark. We are mostly distributed, so we all work from different places with different work environments and schedules.
This makes life interesting, and is great for self-driven types. Yet we have a great sense of team and camaraderie, maintained through team meetings, Hipchat and our periodic livemeetups. We're all interested in a common goal, to help people make a connection with their customers. Our full team does front-line support, which we call "All Hands Support" so we can stay in touch with our own customers and improve our product.
As a Chief Storyteller, what are some of your favorite productivity hacks?
I am a big fan of productivity hacks and when working remotely, they are essential. The key is to strike a balance between giving yourself the most optimal self to work with (e.g. getting enough sleep; giving yourself encouragement and empathy instead of negative self-talk; eating and drinking moderately) and managing technology. Our brains are not wired for the kind of multitasking demanded by multiple devices, screens, sites and channels. I'm always interested to find out what kind of dopamine responses we're training our brain for with technology and learn techniques to let go so I can get things done. (I did a talk on this for an unconference a few years ago). The best things to me are procrastinating on one thing by doing something else I need to accomplish, go for a walk around the block to renew the brain, and working standing up (I'm not sure it's a productivity hack but my back feels better).
As a person who is well-versed with communications & online marketing, I'm sure you rely on a few marketing tools to automate your efforts. What are the top 5 tools you use?
To be honest, we are fairly low-tech in marketing, but we do use some basic tools.
Mailchimp — Nice newsletters and a brand we can relate to.
Formstack — We recently began using Formstack for online forms and they are easy to use.
Mixpanel — For tracking data and analytics on site.
Wistia — Video hosting and good tutorials.
Hootsuite — For social, it's a great platform.
Olark is a super popular product and used by many many businesses around the world. What marketing strategies do you use to get people to your site and convert to paying customers?
Our most awesome secret weapon is the product itself. It's on thousands and thousands of sites and users often find us just by chatting with another site. We also have a customer base that we have a great, friendly relationship with and do a lot for us by spreading the word in social media and to their colleagues. We're moving into more robust content marketing to be able to give prospective and existing customers a richer experience and hope to see more videos and articles that can help anyone achieve better customer experience.
Is there any advice you'd like to give to budding marketers to help them work smart and stay productive?
The hardest part about startup marketing is that you could literally work 24 hours a day and not even scratch the surface of all the work you could do for your company. For that reason, the most important thing you can do is to set priorities and then put blinders on. You will have to say no to a million opportunities that seem amazing but aren't within the scope of your resources. Define your messages and stay on track. Do more things well, not more things. Set up some regular goals and meet them. And be sure to celebrate your wins, even if no one else notices.
A big thanks to Laure for taking the time out to answer these questions! If you haven't already, I highly recommend that you check out Olark.
The 'How Marketers Stay Productive' series asks marketers their tips & strategies for staying productive. Every month we'll feature a new guest and the tricks that keep them working smart. Know someone you'd love to see featured? Email Us.