This week we feature Maciej Zawadziński , co-founder and CEO of Piwik PRO, the company providing enterprise analytics services and Clearcode, a software house specializing in Programmatic Advertising, Big Data Analytics and building enterprise-grade SaaS platforms. He is a skilled technical leader and savvy entrepreneur. Since 2003, Maciej has held the position of CEO of 4 successful startups.
In this interview, you can read more about his work at Piwil PRO, favorite marketing tools, productivity tips as well as his advice for budding marketers.
Your location: Wrocław, Poland.
‍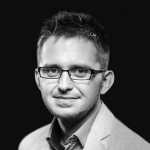 ‍
Your favorite gadget: iPhone.
You start your day with: Coffee & reading emails.
Your favorite time-saving trick: Listen to podcasts or ebooks while driving
Your top 3 blogs you read daily: Adexchanger , Econsultancy, VentureBeat
"Effective collaboration is very important for us as our team is distributed across three continents"
Describe an average day at Piwik PRO?
As a co-founder and the CEO of the company, I am involved in almost every major aspect of the business. My current primary focus, however, is expanding our sales & marketing team as well as developing our business offer and product.
I usually start work late, that is between 8:30 am and 9:30 am, with the exception of days when I am syncing up with Piwik PRO's co-founder, Matthieu Aubry, and his team who are located in New Zealand. On all other days, I shift my day towards the US business hours — one of the advantages of living in Europe is that you can easily manage to work with most of the time zones that matter for us from the business perspective.
From the morning up until early afternoon, I try to complete as many of the things I planned the day before as possible, discuss and review tasks and set priorities with my teams. In the late afternoon, I get on calls and sync up with our US team as well as join calls with our enterprise- level customers and prospects. US clients of Piwik PRO already outnumber our European customers.
As a Co-Founder, what is your favorite productivity hack?
I always organise and plan my tasks and goals the day before. I prioritise them and select the ones that absolutely need to be completed. It's very important to be realistic and not to overload yourself with too many tasks but rather identify which of them can be delegated further to other team members. As a founder, I have a lot of distractions and context switching during the day, therefore, having a plan helps a lot in getting things done, and in particular, completing these 2 or 3 goals I set for myself for that day.
To minimise distractions, I keep my phone and Skype muted for most of the day and I try to adhere to the Inbox Zero rules. Like many other users of this system, I treat my inbox like a to-do list, with each e-mail representing a task that needs to be done or delegated to someone else. Everything else, once it's been replied to or followed up on, gets archived.
As a person who is well-versed with online marketing/ inbound, I'm sure you rely on a few marketing tools to automate your efforts. What are the top 3 tools you use?
Effective collaboration is very important for us as our team is distributed across three "continents" (Europe, North America, and New Zealand). With such great time zone differences, we need to make sure that we don't block each other and that all resources are available to all team members. We use various tools for communication and collaboration which are not necessarily used only by the marketing & sales team. As for our marketing team, we use the following:
Google Docs — these greatly help us as a team to collaborate on the various content documents we put together. The functionalities allow us to make suggestions, add comments & do proof reading before the content is released.
Sendwithus — we use it for drip campaigns and A/B testing emails sent out to Piwik Cloud customers and users who opt in to receive information about our services & products.
Pipedrive — we use it to collect information about prospects and track the stages in the sales funnel that they are in. It's a tool more related to sales, but I still decided to put it on the list as our marketing and sales teams are working together.
Buffer — I use it personally to schedule posts on my private & company social profiles. Our marketing team also use HootSuite for managing our social profiles. And of course our own product — Piwik — we use it for collecting and analysing web statistics, data, conversion tracking, content performance measurement and much more!
At the same time, we're evaluating various marketing automation platforms as we've outgrown our current solutions and we are looking at integrated marketing stacks that will enable us to do and achieve more.
Your company has a growing community of users. How do you use this treasure trove of customer insight to power your marketing efforts?
We have an open source community of users that are eager to share feedback via our forums as well as a built-in feedback feature in our platform. Furthermore, we are often contacted via email and social media.
We ask customers for feedback when they reach out to us for support. This is particularly powerful, especially when we are able to help them to resolve their issues or address their questions, and they are often very eager to share their feedback about the product.
What is your strategy for getting people to your site and then converting them to a customer?
Currently our main sales channel is the community website. Over the years we have accumulated a lot of content and high rankings in search engines. We use this to market not only our product, which you can download and use for free, but also our professional services and paid products, such as Piwik Cloud — our official hosting platform for Piwik, and Piwik
Enterprise — our consultancy and support plans for enterprise-level customers.
Secondly, we develop our email marketing list from users that download our product (opting in for this list is optional). Then, we run a drip campaign to inform them about the paid services and products we offer.
Thirdly, we are in the process of creating content that matches our Buyer Legends and different buying stages that they are in. This is the beginning of a broader strategy of introducing progressive profiling of prospects and serving them the right content at the right time.
Is there any advice you'd like to give to budding marketers to help them work smart and stay productive?
First, align your goals for the marketing and sales teams. The ultimate goal of the marketing team is to get the right volume of high quality leads in the sales pipeline, not necessarily the high traffic numbers to your blog or website. Reading books like The Truth About Leads and Predictable Revenue are good starting points.
Try to experiment with 2 to 3 marketing channels at a time and see what's working and what's not. If any of of them are ineffective, try other marketing channels and then scale up the ones that are working well for your business.
A big thanks to Maciej for taking the time out to answer these questions! If you haven't already, I highly recommend that you check out Piwik PRO.
The 'How Marketers Stay Productive' series asks marketers their tips & strategies for staying productive. Every month we'll feature a new guest and the tricks that keep them working smart. Know someone you'd love to see featured? Email Us.