This week we feature, Martijn de Kuijper Co-Founder of Revue. Revue is the easiest tool to create an email digest newsletter.
In this interview, you can read more about his work at Revue, favorite marketing tools, productivity tips as well as his advice for budding marketers.
Your location: Amsterdam, The Netherlands.
‍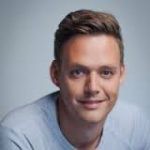 ‍
Your favorite gadget: iPhone 6.
You start your day with: Shower and coffee. Without those two things, it'll take me hours to really wake up.
Your favorite time-saving trick: Start early, try to avoid traffic. I'm a morning person, so I like to get things done in the morning.
Your top blogs you read daily: I let the people who send out curated newsletters decide what I mainly read, so I don't really have specific blogs that I read daily.
"Try to be flexible, make sure to test a lot."
Describe an average day at Revue?
The average day at Revue starts quite early for me. First thing I do once I get to the office is to grab a cup of coffee and then go through my email. I also try to get done with customer support before the rest of the team comes in around 9.30/10 o'clock. Then I check out some of the newsletters that our users have sent out, just to see what they're up to! For those that don't know Revue, we are a platform that enables our users to get their thoughts into people's inboxes by creating their own personal curated newsletter!
After the rest of the team arrives, we briefly discuss what we'll be focussing on that day. Everyone has their own tasks. Since we are a small team I mainly focus on the product but I also tend to discuss our marketing/content, check on ongoing tests and brainstorm what to do next with the others.
As a startup founder, what are some of your favorite productivity hacks?
As a founder, you have a million things on your to-do list and often those tasks tend to be very different from each other. That's why I've learned how to divert my attention from one thing to another easily, without drifitng away from my priorities too much. What really helps me is to write down in the morning all of the things that absolutely have to be done that day. I do everything digitally but this is the one thing I do on paper. Also, during the day I usually have my headphones in if I really want to focus, otherwise I easily get distracted.
Aside from the work related "hacks", I like to run regularly. Running keeps me in top shape and helps me clear my mind. Also, by being fit I'm able to have better focus for much longer.
As a person who is well-versed with online marketing/ inbound, I'm sure you rely on a few marketing tools to automate your efforts. What are the top 3–5 tools you use?
Mixpanel — We rely heavily on Mixpanel for our metrics. It really helps us to understand customer behaviour from a quantatative perspective. We especially use it to see how our customers convert down the funnel per (campaign) source. Intercom — We love Intercom at Revue. I like to believe we're very quick in helping out people and Intercom is perfect for that. We also use it for drip campaigns. Excel — Creating spreadsheets is still the best way to make overviews of your metrics (the numbers still come from multiple sources; Mixpanel, Intercom, Google Analytics, our database, etc.). Buffer — After organic/viral traffic, social media is our second biggest channel. Buffer helps us in our content marketing efforts.
Your company has a growing community of users. How do you use this treasure trove of customer insight to power your marketing efforts?
We try to be in touch with our customers as much as possible, so we like to talk to them often. We're very lucky that we have a group of very dedicated users that really help us understand their needs. Based on that, we don't only improve our product, we also manage to sharpen our marketing messaging. For example, we just did 30 one-hour long interviews with some of our users, which gave us tremendous insights. We're now using this info to position ourselves better and adjust the direction that we're going in with the product.
What is your strategy for getting people to your site and then converting them to a customer?
We try to do a lot of tests on our website to see how we can convert people to users. Although we are a very easy tool to use, it's still hard to make sure people "get it" from the get-go. The insights we got from the research I mentioned before are really helping us in sharpening our communications. We test that messaging all the time as well.
We're continuously improving our onboarding process in order to help people get their first newsletter out once they signed up. Our support is also key here, that's why we try to be available all the time to help them in any way we can.
Is there any advice you'd like to give to budding startup marketers to help them work smart and stay productive?
Try to be flexible, make sure to test a lot. Talk to your users to understand their needs but avoid to become to dependent on their feedback since you sometimes need to push the things you think need to happen.
A big thanks to Martijn for taking the time out to answer these questions! If you haven't already, we highly recommend that you check out Revue.
The 'How Marketers Stay Productive' series asks marketers their tips & strategies for staying productive. Every week we'll feature a new guest and the tricks that keep them working smart. Know someone you'd love to see featured? Email Us.