This week we feature Mila Shvets, Digital Marketer at TeamDesk. TeamDesk is an online database that enables teams to easily create web-based databases or use predefined one to gather, share and manage their business.
In this interview, you can read more about her work at TeamDesk, favorite marketing tools, productivity tips as well as her advice for budding marketers.
Your location: Chicago, USA.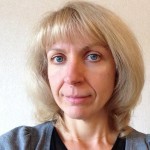 Your favorite gadget: IPad mini.
You start your day with: Yoga and breakfast with my family.
Your favorite time-saving trick: Stay organized. All activities should be well-planned and prioritized. Focus on the most important stuff while skipping unnecessary actions.
Your top 3 blogs you read daily: I like to read News sites like http://techcrunch.com/ daily and surely review competitors' blogs. This is a pretty interesting blog that I discovered: http://brightpod.com/blog
I would also recommend these blogs: http://blog.hubspot.com , http://blog.asmartbear.com/ , https://signalvnoise.com/
"In the setup mode TeamDesk works like a "construction set", so a customer can build а unique database for any type of industry."
Describe an average day at TeamDesk?
The day at TeamDesk can start anywhere and anytime, because all the work can be done remotely. Nevertheless, we like to meet in our office, where we can have coffee/tea, make jokes and be in а good mood. During this coffee/tea time we read news and discuss ideas that can improve our products. My work can be divided into marketing part and technical part. Each part requires a creative approach and unordinary solutions. Technical part includes answering clients' questions, providing help in database adjustment and building new databases for prospects or clients. Marketing part includes advertising, promotion via social media, blog posts and articles writing. All it takes is just a spark of inspiration and an Internet connection.
As a marketer, what is your favorite productivity hack?
Remote access: Everyone (employers, staff, owners, customers) can work remotely. This is a great advantage that allows answering questions, managing promotion or discussing ideas promptly in any place in the word. As the result I manage keep working even while traveling. I like this very much.
One centralized environment: All the communications (questions, issues and ideas) are collected and discussed in one central place — CRMdesk support portal — the key to our robust customer support. It keeps all the discussion threads, organizes all customers' questions and emails for quick reference, and prevents information losses.
Visualization and examples: Most of the people consume information visually. Schemes, charts andinfographics are very helpful in blog posts and social media sharing. Moreover, when I build a new database for a customer, I ask him/her to visualize it or give some work examples. Any visualization helps to create a correct database structure and simplify database creation process.
As a person who is well-versed with online marketing/ inbound, I'm sure you rely on a few marketing tools to automate your efforts. What are the top 3 tools you use?
Google AdWords, Google Analytics, Webmaster. Sure, I read many interesting articles and books to gather a background for new ideas. I always pay attention to our clients/prospects' feedback, criticism and creative ideas.
Your company has a growing community of users. How do you use this treasure trove of customer insight to power your marketing efforts?
We created an Idea Exchange hub and a Forum portal. It is very important to give customers a way to express their database creation experience and share their advices or tips with other clients. We also encourage our customers to publish case studies or articles for our blog.
What is your strategy for getting people to your site and then converting them to a customer?
TeamDesk prospects can reach the website via Google AdWords, Organic search results and direct clients'recommendations. TeamDesk profiles are also registered in special SaaS (Software-as-a-Service) or Online Databases directories. Prospects can either open a free trial of a pre-built database or create a new online database from scratch. The main TeamDesk advantage is that a customer can create a web-database for his/her specific business needs. In the setup mode TeamDesk works like a "construction set", so a customer can build а unique database for any type of industry. Moreover, a prospect or a site visitor can send us a database description or examples of working materials and we'll create a draft database prototype for free. As a result each customer/prospect can check a unique database created for his/her unique business needs within just a few hours after a request.
Is there any advice you'd like to give to budding marketers to help them work smart and stay productive?
Marketers should provide an interesting and unique content for their posts and articles. It is nice to find good infographic ideas, as users can digest visual information easier.
A big thanks to Mila for taking the time out to answer these questions! If you haven't already, I highly recommend that you check out TeamDesk.
The 'How Marketers Stay Productive' series asks marketers their tips & strategies for staying productive. Every month we'll feature a new guest and the tricks that keep them working smart. Know someone you'd love to see featured? Email Us.