For our eighth interview series, we feature Nathan Kontny, Founder of Draft — a web app that helps you to write better. I use Draft with my team and it is one of the best collaboration and version control tools for writers working in teams.
In this interview, you can read more about Nate's work at Draft, his favorite marketing tools, productivity tips as well his advice for budding marketers.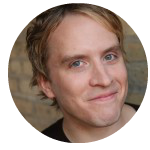 Your location : Chicago
Your favorite gadget: Keurig coffee maker. I love having coffee almost instantaneously.
You start your day with: Coffee. :)
Your favorite time-saving trick: I'd say using a Keurig again, but now I sound like a Keurig salesman. I'm not sure it's a trick, but I constantly try and get better at finding small solutions to problems. I find myself with all sorts of extra time when I stop worrying so much about perfect and complete solutions to things.
"As for what I actually do, I'm just trying to make things that help me become a better and more productive writer. And it just so happens, there's a bunch of other people that benefit from that."
Describe an average day at Draft?
I wake up and make a breakfast of coffee + protein shake + a salad. :) My salad is usually just a bunch of spinach and broccoli. No salad dressing. Sometimes I'll throw some blueberries in there. Most people make a face when they see or hear about my breakfast. "A salad for breakfast?! And it's just raw spinach and broccoli?!?!"
It does take getting used to. Broccoli is the most ridiculous food on the planet. Most people seem to not like it. But it's the best "superfood" you can eat. For example, it has more Vitamin C than oranges. And it has more vitamins than any other food.
I then immediately go into Draft mode during my breakfast. I'll often start at the top of my email inbox and just plough through it. If I see an email, I'll reply to it or delete it immediately. Most often, it takes only a couple minutes to reply. If I procrastinate by replying later, I have to re-read the email and re-think what the reply is going to be. Procrastinating on email means double work. For the emails that might take longer to reply, I'll flag them as things I need to get back to.
I try and work out about 6 days a week. I'll do that usually before lunch. I'm such a homebody. I love working at my dining room table with my cat and dog nearby. And my workouts are the same. I prefer being at home and not wasting time in any commute to a gym.
My favorite at home workouts are things like p90x. I've done p90x multiple times. It's a fantastic all around set of workouts. My favorite these days is Shaun T's T25. It's hard to convince me I don't have 25 minutes to workout :)
After lunch, on many days, I like to work in front of a TV.
"Watch more TV."- Kareem Abdul-Jabbar (Life Lessons)
I know this isn't real common, but I've always been pretty good about working while watching television. It can't be some really cerebral show that I've never seen before, but things like re-runs of Felicity or West Wing are perfect. The core of Draft was built while watching the entire season of West Wing over again at 1AM.
I like to work really late at night. It's peaceful at 1AM. Sometimes, I get tired at 10PM only to get some kind of new wind and stay up till 3AM working on Draft.
As for what I actually do, I'm just trying to make things that help me become a better and more productive writer. And it just so happens, there's a bunch of other people that benefit from that.
As a marketer & founder, what are some of your favorite productivity hacks?
One of the most important productivity hack is simply how I manage my to-do list. I picked up this method from a book called The One Minute To-do List. It's got a great method of organizing what needs to get done. Now, Soon, Later.
Now is just three things — the top three things you need to do ASAP. Soon is ten things max that you might need to do soon. Later is everything else. It really helps if you realize there's only so much you can do. You can't actually work on ten things at once. Three is the max you can even really think about all day. If something is blocking me, I'll take a break and work on one of the other three.
The other thing that really helps me is just figuring out what the 20% solution is. For almost any problem you can name in your life, there's a tiny solution that solves 80% of what's going on. Most of us building things, are trying to do 100%. There's something called the The Zeigarnik Effect. It's this psychological effect that our brains go through where it hurts us to not complete something. I think that's why so many of us suck at coming up with simple 20% solutions. We're obsessed about trying to nail down 100% of our vision of what a solution looks like. But the paradox is that it's so hard to get to that 100%.
As a person who is going solo, I'm sure you rely on a few marketing tools to automate your efforts. What are the top 5 tools you use? Does your blog, ninjasandrobots help in getting signups for Draft?
I don't use many automated tools. I like to stay on top of my Twitter searches for mentions of my blog or Draft. But it's just usually me using those searches manually.
My blog, Ninjas and Robots, is definitely a great resource for my business and driving new users to Draft.
I think a lot of people have a pretty narrow view of marketing. They want to do X and measure Y and if that doesn't work like they expect, they give up or declare failure.
I like to just focus on teaching. And I don't try to automate. I do a lot of things that probably don't even look like they'd be good ideas if you measured them. I go onto Reddit and just answer random questions about writing or starting a business. Most of the people I'm sure reading those don't become Draft customers. Some do. But more importantly, I know I got to teach someone something that day. And what's also interesting, is I can take that teaching and turn it into a blog post, or a speech or even a chapter of a book.
Instead of automation and a focus on marketing, I think more people really need to just teach more. Worry about leaving people with something they can make their lives better with, and the rest will fall into place.
Draft has a growing community of users. How do you use this treasure trove of customer insight to power your marketing efforts?
Paul Graham, founder Y Combinator likes to tell his startups that all we should be doing when starting our businesses is building features and talking to users.
So I don't really look at Draft's community of users as a marketing resource. Instead, Draft's users are constantly helping me make a better product and I hope I'm helping them.
If you click on Help in Draft, many people are surprised that it doesn't take you to an FAQ. That's what most sites do. Instead, it pops up a box where you can immediately send me an email with your question. I love getting these emails.
After I answer a support email I often end it with, "Does that help?" instead of saying "Please let me know if you have any further questions." I explicitly ask the question in my email because I want even more conversation.
All those conversations turn into even more great ideas on how I can help people get better at not just using Draft, but at becoming great at writing.
Is there any advice you'd like to give to budding marketers to help them work smart and stay productive?
Teach.
Out-teach the competition. Ready Kathy Sierra's blog, especially her post on out-teaching vs. out-spending. Spend your time trying to help people get better at what they want to get better at doing, and you'll find yourself surrounded by people who are happy to spread the word about things you might be selling.
Write.
Consistently. Give yourself a goal of publishing one blog post a week that teaches someone else something. Do that for years. This game of startups and building businesses is a long-game. Too many people just try quick marketing hits. It is too late when they realize that the time could have been used creating an audience much more loyal than people clicking banner ads.
A big thanks to Nate for taking the time out to answer these questions! If you haven't already, I highly recommend that you check out Draft.
The 'How Marketers Stay Productive' series asks marketers their tips & strategies for staying productive. Every month we'll feature a new guest and the tricks that keep them working smart. Know someone you'd love to see featured? Email Us.