This week we feature Nick Harley, Technical Marketer at Raygun. Raygun is a leading error and crash reporting tool to help developers discover and resolve software bugs faster.
In this interview, you can read more about his work at Raygun, favorite marketing tools, productivity tips as well as his advice for budding marketers.
Your location: Wellington, New Zealand.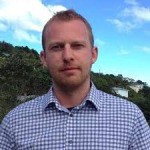 Your favorite gadget: My iPhone!
You start your day with: Checking stats and performance.
Your favorite time-saving trick: Automatic list segmentation in Mailchimp.
Your top 3 blogs you read daily: James Altucher, Mark Suster Both Sides of the Table, Paul Graham.
"Delivering the right message to people at the right time is something we're constantly striving for."
Describe an average day at Raygun?
I usually get to the office just after 8am and will immediately check out our company dashboards for overnight activity. My job at Raygun is all about viewing data and working to improve our signups, customers and sales, so being on top of the numbers consistently means I'm finely tuned to any fluctuations or inconsistencies. I'll usually start the day clearing my inbox and planning out the day's tasks. At the moment we're a fast growing team, so the days are very busy as there is so much to do, however I really enjoy working in a fast paced environment.
I wouldn't say that any day at a startup or growing company is average, you never really know what your day could entail, but we are trying to build a process into everything we do. As a general rule I'll spend the morning planning and talking with the marketing, developer and design teams about projects we're working on, setting everybody on the right path so the afternoon is spent putting things into action. This may involve implementing new features and growth related tasks, helping get our marketing message out there through the media or tweaking our online advertising campaigns. The afternoon is allocated some time for upselling existing customers or helping to onboard new ones. I often end the day by watching a couple of marketing related videos or talks to help gain a bit more knowledge or initiate some new ideas. I especially like the Moz Whiteboard Fridays series by Rand Fishkin, so check that out.
As a marketer, what is your favorite productivity hack?
I wouldn't necessarily call them 'hacks' but being productive is all about being organised. As a marketer you'll no doubt be trying to do one hundred things at once, or if you're not doing those hundred things you'll be having hundreds of new ideas. It's important not to get lost and be left meandering. Staying off social media and turning off desktop notifications is a big one for me that means I'm not getting distracted and taken off task.
As a person who is well-versed with online marketing/ inbound, I'm sure you rely on a few marketing tools to automate your efforts. What are the top 3 tools you use?
We use Intercom to talk to users and send drip feed campaigns. This is a huge time saver, but in reality people usually know these emails are automated, so we make sure we don't try to conceal that and ensure they get speedy replies when someone responds. I'm a huge fan of Mailchimp for newsletters and targeted campaigns. We also use Mixpanel to help understand our users. Though we're yet to set it up to it's full potential, which can be quite a lot of work, it's proved effective in helping us figure out what's happening in our conversion funnel. Buffer is a good time saver for social media scheduling and of course Google Adwords is something we spend a lot of time with. Generally we try not to automate too much as you can easily lose the personal touch and personality that comes from interacting with users.
Your company has a growing community of users. How do you use this treasure trove of customer insight to power your marketing efforts?
It's easy to look at numbers on a dashboard and see what's happening, but remembering that each one of those signups is a potential customer really gets you thinking about how you can make the experience the best it can be for each of them. One of the best things we've done this year is to introduce 'buckets'. Our buckets are things we've set up internally to group users into various stages of the signup process. This allows us to segment our users and send them targeted messages, dependant on where they are in our customer lifecycle. We've also found that ideas for how to leverage this information further are always cropping up. Delivering the right message to people at the right time is something we're constantly striving for.
What is your strategy for getting people to your site and then converting them to a customer?
We've got a lot of different acquisition channels and they all have different positives and negatives. Raygun is a very technical product, built for software developers, so this is an audience that is incredibly hard to market to directly. Developers are clever people and are highly attuned to when they're been marketed to, and sometimes this is detrimental to their impression of you, so we've definitely tried to build a voice of authority and trust with this audience. All of our development team are tasked with creating content that is technically sound and interesting. Driving visitors to interesting content on our site helps build trust and integrity, even if they don't need our solution the first time they reach our site. Hopefully we'll stick in their minds for when they do.
Conversion wise we're getting a lot better at measurement. This year we've been working on A/B testing frameworks, conversion funnel analysis and reporting to find out where we can improve on converting new users. Our strategy is all about trial and error and using the data to make informed decisions. We conduct experiments regularly and see what impacts this has on conversions.
Is there any advice you'd like to give to budding marketers to help them work smart and stay productive?
We have a marketing whiteboard which we use to add tasks and tick them off once completed, so filling this up with actionable items stops us from just being busy — being busy, and instead gives some focus. Ticking off tasks from your list can be satisfying and gives you a sense of achievement when you've completed what you set out to accomplish.
Short sharp bursts of action are a great way to get tasks finished and cleared off rather than be left there hanging longer than they need to be. Keep everything neat and tidy, your files organised, your inbox clean, your playbooks and marketing materials up to date and use services like Dropbox to share assets across the whole team. You'll be amazed how much time is lost just looking for things you or your team need but are deep within the files on your computer. It's important to build efficiency into your everyday work habits. Having things set up in a way that is adaptable for future growth in both team numbers and workload is something I'm always thinking about, as this pays off in the longer term.
A big thanks to Nick for taking the time out to answer these questions! If you haven't already, I highly recommend that you check out Raygun.
The 'How Marketers Stay Productive' series asks marketers their tips & strategies for staying productive. Every month we'll feature a new guest and the tricks that keep them working smart. Know someone you'd love to see featured? Email Us.