This week we feature, Oskar Glauser Founder of MinuteMailer. Minutemailer is a smart and time efficient service that helps businesses improve their marketing using fantastic emails, Facebook and Twitter.
In this interview, you can read more about his work at Minutemailer, favorite marketing tools, productivity tips as well as his advice for budding marketers.
Your location: ​ Stockholm, Sweden.
‍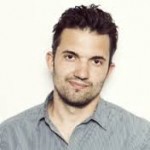 ‍
Your favorite gadget: My iPhone 6.
You start your day with:​ An omelette and taking the kids to daycare
Your favorite time-saving trick: Avoid pointless meetings and small talk on the phone. Cut to the chase.
Your top 3 blogs you read daily: Qz.com , Techcrunch.com , reddit.com/r/Futurology
"Make a plan and define your message and position."
Describe an average day at MinuteMailer?
When I wake up I check Slack to see how many people have signed up, sent emails or social media and if any user have become a paying customer. I also check my email to see if we have any support issues that needs to be answered.
At Minutemailer we work as a distributed team and communicate by Slack, Trello and email. So a lot of the time is spent supporting the team and also looking at different product developments. I also take time to find new ways of getting the product out there by partnerships or direct sales. Right now the whole team is also working with other projects on the side of Minutemailer so theres always things to do. Life is fun but busy!
As a founder, what are some of your favorite productivity hacks?
Have kids. They force you to awake early and really take care of your time : ) otherwise I don't have any hacks like that. I drink coffe, listen to music and try to avoid pointless meetins or talking on the phone if it doesn't make sense. Actually some of the worst ways of waisting time is to have long agenda less meetings where no one takes notes and you don't have clear decision points.
As a person who is well-versed with online marketing/ inbound, I'm sure you rely on a few marketing tools to automate your efforts. What are the top 5 tools you use?
I use Minutemailer off course : ) and we have just started to use Intercom which seems lovely. We are trying to automate everything thru Minutemailer to eat our own dog food so to speak.
So my top 5 tools would be:
1. Minutemailer 2. Intercom 3–5. Actually no more tools right now.
Your company has a growing community of users. How do you use this treasure trove of customer insight to power your marketing efforts?What is your strategy for getting people to your site and then converting them to a customer?
We try to get feedback from every new user by encouraging them to contact us and tell us about any problems or thoughts they have and we get a lot of emails by users with feedback. Right now we are working on converting users into customers by delivering on improvements to the service that people have asked for. We will also soon work more with new ways of activating users by email and in the app.
Is there any advice you'd like to give to budding marketers to help them work smart and stay productive?
Make a plan and define your message and position. How you will work with marketing over time. Spread out your activities over time and find a good mix of things to do. Marketing isn't about one single big splash but about working consistently with many channels and activities over time. That's how you get a good result.
So don't loose focus have some patience. It will pay off.
A big thanks to Diego for taking the time out to answer these questions! If you haven't already, we highly recommend that you check out Minutemailer.
The 'How Marketers Stay Productive' series asks marketers their tips & strategies for staying productive. Every week we'll feature a new guest and the tricks that keep them working smart. Know someone you'd love to see featured? Email Us.