This week we feature Phil Haslehurst, Marketing Manager at Decibel Insight . Decibel Insight is a lead insight tool designed for webmasters to gather intelligent data from analytics.
In this interview, you can read more about his work at Decibel Insight, favorite marketing tools, productivity tips as well as his advice for budding marketers.
Your location: London.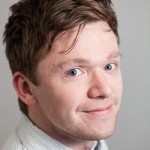 Your favorite gadget: Based on volume of use, my phone is a clear winner. Based on passion for use, my Magimix.
You start you day with: Spotify.
Your favorite time-saving trick: So many people have their email on screen all day long. It's a massive source of distraction. Set aside an hour or two a day for emails, and outside of that window shut them down. They'll still be there when you come back to them…
Your top 3 blogs you read daily: Springwise for inspiring ideas, Econsultancy for digital industry news, and WhichTestWon for the analytics geek in me
"It's all about building a relationship where users feel listened to and valued.."
Describe an average day at Decibel Insight?There's no such thing! We're still very much in mode, which means that it's a varied and exciting working environment. We spend our time working with our clients, developing our technology, and finding new ways to make ourselves known to the market. Right now we're in the middle of a long sequence of events, so a big part of my time is taken up with preparing presentations, making sure we have our elevator pitch just right, that kind of thing.
As a founder/ marketer, what are some of your favorite productivity hacks?I'm not sure it's a hack so much as an approach to working, but I'm a big fan of making quick decisions — not being afraid to run with new ideas, and also not being afraid to kill them off if they don't pan out very well. You can calculate and plan, but there's sometimes a great case for trying something out and seeing what happens. It's always a learning experience and keeps things fresh.
Finally, I'd say that prioritisation is key. It's not exactly a new fangled approach, but dividing your tasks between "essential and urgent", "essential or urgent" and "everything else" is a habit I've kept since I started my working life as a teenager. The first group is what you have to get done. The second group is what you turn to once the first group is done. The third group goes into the bin.
As a person who is well-versed with online marketing/ inbound, I'm sure you rely on a few marketing tools to automate your efforts. What are the top 3–5 tools you use?We use Infusionsoft to deal with our lead nurturing efforts. Our own tool, Decibel Insight, also helps us to automatically surface leads from our website. We use Google Alerts to keep track of the competitive landscape and analytics market generally. Tweetdeck is indispensable for engaging with particular topics and influencers through Twitter, especially in the run up to big events.
Your company has a growing community of users. How do you use this treasure trove of customer insight to power your marketing efforts?It's all about building a relationship where users feel listened to and valued. If your customers feel that they're being taken seriously then they'll share feedback very openly and offer some very practical and useful ideas. In practice this isn't just a marketing job — it's a task for our support team, our sales guys, everyone.
Building software is interesting. When you create a tool you have a preconception of how it will be used, the value your users will extract from it. The reality can be very different indeed. Open dialog with our users about how they apply our software to their day jobs is an incredibly powerful source of insight. It helps us to evolve the software in ways that answer real challenges for our real customers.
What is your strategy for getting people to your site and then converting them to a customer?We have embraced a freemium model. We give users a really helpful and usable free account. They can use it for as long as they like, prove the value of the tool to themselves and their business, and then upgrade if they need our bigger, more advanced features. It's something that we were initially very nervous of doing — after all, giving away your hard work for nothing is quite counter-intuitive — but we have found the results incredibly positive so far.
Driving traffic is a broad and ever-evolving strategy. We have a number of channels — paid advertising, organic activity like content and technical SEO, partnerships with third parties, social media, and awareness raising activity in the offline world too.
Is there any advice you'd like to give to budding marketers to help them work smart and stay productive?I saw a great presentation a couple of years back from a guy who was starting up a B2B digital marketing department from square 1. He said that the first year's strategy was just to get some stuff done — roll out some activity, generate some results and create a position from which to build. I thought that was really pertinent — obsession with strategy can be counterproductive, and planning will only get you so far. Don't be scared to do some stuff, see how it works, and develop from that point.
In terms of working smart, it's about being prepared to set aside your ego altogether and make decisions based on the information that you have available to you and what is most likely to be best for the business. Don't take on too much, don't divide your attention infinitely between every idea you ever have, and don't be afraid to shut things down if they're not working. Prioritise, write lists, and be someone who gets things done.
A big thanks to Phil for taking the time out to answer these questions! If you haven't already, I highly recommend that you check out DecibelInsight.
The 'How Marketers Stay Productive' series asks marketers their tips & strategies for staying productive. Every week we'll feature a new guest and the tricks that keep them working smart. Know someone you'd love to see featured? Email Us.