For our fifteenth interview series, we feature Rajiv Mathew, Head of Marketing at Compassites. Compassites is a niche technology firm that has expertise in big data, cloud computing and cosumerization of IT space.
In this interview, you can read more about his work at Compassites, favorite marketing tools, productivity tips as well as his advice for budding marketers.
Your location: Bangalore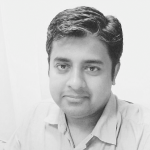 Your favorite gadget: My Google Nexus 5
You start your day with: Green tea on some days and Museli on others. Wanna try lime water + honey more often though.
Your favorite time-saving trick: Am a chronic checklist builder and can't do without lists to manage all the tasks at hand.
Your top 3 blogs you read daily: TechCrunch, FirstPost & Youtube Trends
"Online marketing is one of the best ways for brands to stand out from the clutter and reach out to consumers in a proactive manner."
Describe an average day at Compassites?
An average day at Compassites is fairly hectic & chaotic! We really don't follow any particular schedule and things are different everyday. Some days are more to do with meetings and discussions and other days are quiet, as we focus to get the job done that day. The flexibility to manage one's own time and tasks gives people a sense of empowerment for the work that is assigned to them. Hence, everyday is a new kind of adventure waiting to be explored.
As a marketer, what are some of your favorite productivity hacks?
I would say that Trello is probably the best productivity hack. It's a general-purpose project management tool, which helps you to track all the things that need to be done on a digital wall. It helps you break down any major product into small and easily digestible parts.
Also I've tried to get to zero inbox by unsubscribing to all unnecessary newsletters and mailing lists. Having fewer emails to read is surely one of the best productivity hacks that one can think of!
Lastly, I've tried multiple workarounds to cut down on commute time to work. It's really not worth getting stuck in traffic. Its takes off a lot of energy and positivity from your system and drains you out completely. So avoid traffic as much as you can.
As a person who is well-versed with online marketing, I'm sure you rely on a few marketing tools to automate your efforts. What are the top 3–5 tools you use?
I've used Marketo and Hubspot quite extensively and find them to be excellent automation tools. I would also highly recommend these two tools for the easy of use and the value that it can provide to your marketing campaigns. I've also used a tool called EngageB2B in one of the previous organizations that I worked at.
How has online marketing evolved in the last decade?
Online marketing has totally redefined what marketing is all about by wiping out a lot of traditional approaches to marketing. We live in a digital world and companies/brands are increasingly unable to avoid getting on digital platforms. Consumers are more empowered now and with the smart phone revolution, consumers have access to any data at the tip of their fingertips. With Internet speeds really getting better by the year, the amount of data that is being produced and being consumed is unprecedented. Hence online marketing is one of the best ways for brands to stand out from the clutter and reach out to consumers in a proactive manner. I'd also go to the extent to say that brands that don't move to a digital presence over the next decade, could face extinction due to stiff competition. Hence the impact that online marketing experts can have is all the more profound.
Is there any advice you'd like to give to budding marketers to help them work smart and stay productive?
Marketing is all about execution. It's all nice and fancy, to build castles in the air and have flashy Powerpoint presentations, but marketing success is a result of real grunt work in the trenches. As you struggle through the initial years, your learnings and experiences, will enable you to truly appreciate the invaluable asset that marketing can be to any organization.
Attention to detail is one skill which would be great if you were to pick up early on. Getting that keen eye for detail takes time, but once you reach a good level of observation, nothing will escape your eye!
Lastly, the last mile of marketing is sales. Anything and everything that you do in marketing should lead to some sort of a sale. It could be the sale of an idea, a product or a service. Unless a sales of some sort happens in the mind of the consumer or through a purchase done by the consumer, marketing would not really have made an impact. Hence the closer marketing teams can get to the business, the better things would be. Sales enablement & lead generation is probably the number #1 KRA for any budding marketer, especially in a startup setup.
A big thanks to Rajiv for taking the time out to answer these questions! If you haven't already, I highly recommend that you check out Compassites.
The 'How Marketers Stay Productive' series asks marketers their tips & strategies for staying productive. Every month we'll feature a new guest and the tricks that keep them working smart. Know someone you'd love to see featured? Email Us.