This week we feature, Rameet Chawla Founder of Fueled. Fueled is a full service iPhone app design and development agency that specializes in building custom apps for our clients from scratch.
In this interview, you can read more about his work at Fueled, favorite marketing tools, productivity tips as well as his advice for budding marketers.
Your location: New York City. Our office is in Soho.
‍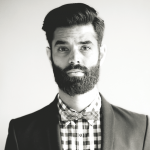 ‍
Your favorite gadget: UE Boom.
You start your day with: Coconut water!
Your favorite time-saving trick: TextExpander
Your top blogs you read daily: a16z, Business Intelligence & Analytics Blog , The New York Times.
"Do things that don't scale."
Describe an average day at Fueled?
The average day at Fueled varies depending on your role in the organization. Designers and developers spend the majority of their day in creative mode, working on projects for our clients. Account managers focus on assembling reports, managing expectations and handling all client communications. Product strategists engage in competitive landscape research, and debate the best direction to take a client's idea.
As a startup founder, what are some of your favorite productivity hacks?
As far as I'm concerned, productivity is a matter of focus. Reducing the time you spend in meetings and inside of email is key. I prefer to check email only a few times a day, instead of of being constantly sucked back inside the inbox. Email gives you a false sense of accomplishment. I've also created a specific schedule that helps me accomplish my goals. I spend time with the team and clients from 1pm-7pm. I focus on bigger, strategic projects at night from 11pm-4am. This way I have time with my team, but I also get several hours of undisturbed focus time.
As a person who is well-versed with online marketing/ inbound, I'm sure you rely on a few marketing tools to automate your efforts. What are the top 3–5 tools you use?
Actually you'd be surprised, we really don't spend anything on marketing. Everything is more organic here. We typically reward people for getting links to our content as opposed any paid media strategies. Good marketing is a lot of sweat equity, which is generally genuine and not easily hacked or faked.
What is your strategy for getting people to your site and then converting them to a customer?
We put a lot of effort into SEO. We drive about 70% of our revenue and site traffic from organic search. Once people arrive on our site, we make sure they immediately are exposed to our best work because we know that will compel them to choose us! We also have a unique personality to our brand, which really helps to set us apart.
Is there any advice you'd like to give to budding startup marketers to help them work smart and stay productive?
Yes. Do things that don't scale. Sometimes quality is more important that quantity. I would also recommend that they get up from their desk and actually go to events and meetups. Connecting with people is the best way to get ahead and get the word out about what you're doing.
A big thanks to Rameet for taking the time out to answer these questions! If you haven't already, we highly recommend that you check out Fueled.
The 'How Marketers Stay Productive' series asks marketers their tips & strategies for staying productive. Every week we'll feature a new guest and the tricks that keep them working smart. Know someone you'd love to see featured? Email Us.