For our twentieth interview series, we feature Ravi Parikh, cofounder at Heap. Heap is web and mobile analytics app that automatically captures everything. Whereas other tools require you to manually instrument code, Heap automatically captures every user interaction in your app. This lets our customers analyze data instantly and retroactively, without writing code, and without waiting weeks for data to accumulate.
In this interview, you can read more about his work at Heap, favorite marketing tools, productivity tips as well as his advice for budding marketers.
Your location: San Francisco, CA.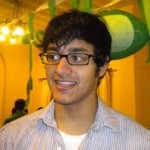 Your favorite gadget: My slow cooker
You start your day with: Iced tea
Your favorite time-saving trick: If you waste too much time on Twitter or Reddit or Hacker News, block the website from your computer by editing the hosts file so you don't get distracted.
Your top 3 blogs you read daily: Groove's blog , Noah Kagan's OKDork, InsideIntercom.io
"As an analytics company, we use data to power marketing, sales, and product development. "
Describe an average day at Heap?
A large part of my job is taking care of one-off tasks that would otherwise interrupt our engineering team. This means everything from customer support and sales calls to keeping the office clean and buying supplies. To someone whose full-time job is engineering, marketing, sales, or any other specialized position, having to deal with one-off tasks can be incredibly disruptive. I try to buffer as many of these as possible from the rest of the team.
About half my time goes into these one-off tasks. When I'm not dealing with these tasks, I spend time working on articles for our data blog or writing front-end code.
As a founder/ marketer, what are some of your favorite productivity hacks?
I love the "don't break the chain" approach. I think Jerry Seinfeld first popularized it. It works like this: pick a daily goal, for example, "write 500 words for our content marketing site." Then, every day you finish that goal, mark it off. After a few consecutive days of accomplishing your goal, you'll have a streak going, and you'll feel incentivized to keep the streak alive. I have one streak going right now of 121 consecutive days! The website chains.cc has a web app that helps you manage these "chains."
As a person who is well-versed with online marketing/ inbound, I'm sure you rely on a few marketing tools to automate your efforts. What are the top 3–5 tools you use?
Mailchimp — The best email marketing software out there.
Rapportive — A large part of my job is managing relationships with others. Being able to see at a glance who people are in my email inbox is extremely valuable.
Join.me — This isn't quite in the category of marketing tools, but I'm a huge fan and want to point it out. It's screen sharing software that works in the browser, so the other person doesn't need to install anything to conference in.
And of course, Heap — Everything we do, we measure and evaluate.
Your company has a growing community of users. How do you use this treasure trove of customer insight to power your marketing efforts?
As an analytics company, we use data to power marketing, sales, and product development. One ongoing experiment has been to see which kinds of blog posts lead to actual customers. It's not as simple as "more traffic = more customers." There are some blog posts that may appeal to a wider audience, but it may end up being a lot of people who aren't necessarily in our target market. Whereas other blog topics may reach fewer people but lead to more customers. An example is our blog post on how we re-evaluated our pricing scheme. While it only reached a few thousand visitors, a lot of those people were startup founders or product designers who ended up signing up for Heap or subscribing to the blog.
Data doesn't always paint a complete picture though. A lot of great insights also come from speaking with our customers. We had a high churn rate in the early days of Heap, and it was only by following up with those customers that we were able to figure out the root cause and also win some of them back. It turned out we weren't doing a great job in communicating our feature set to people, and people didn't know about much of Heap's core functionality. The solution was multi-faceted (and something of an ongoing process for us). We now send more targeted customer lifecycle emails with specific advice / tips, and now have detailed feature pages aimed at prospective customers.
What is your strategy for getting people to your site and then converting them to a customer?
Heap first launched in March 2013, and at that point it was just two of us. We didn't have the bandwidth at that point to do much inbound marketing, so all of our users came in via word of mouth. Our early customers were instrumental in helping us grow from 10 to 100 to now over 1,000 businesses.
As we've grown the company, though, we've invested a lot more time into our marketing efforts. We've found in the past that well-written, interesting content is one of the best drivers of customers. A large part of the value is in building an audience over time, which we're beginning to reap the benefits of. We get customers these days who first heard about us months ago from an article or guest post or interview we did, and when it came time to choose an analytics solution, Heap was top of mind.
Is there any advice you'd like to give to budding marketers to help them work smart and stay productive?
Focus. There are tons of strategies that you can use to grow your business: SEM, SEO, content, press, etc. As a startup you won't have enough time to invest in all of these. Figure out what one thing works best for your business and focus on that.
A big thanks to Ravi for taking the time out to answer these questions! If you haven't already, I highly recommend that you check out Heap.
The 'How Marketers Stay Productive' series asks marketers their tips & strategies for staying productive. Every month we'll feature a new guest and the tricks that keep them working smart. Know someone you'd love to see featured? Email Us.