This week we feature Robert Millar, Owner & Chief Enthusiast at Qhub. Qhub.com is the leader in Q&A Software. It's the simplest way to add fully featured, beautifully designed Q&A and FAQ pages to any website. It's also a great way to set up your own online community, all in less than 30 seconds.
In this interview, you can read more about his work at Qhub, favorite marketing tools, productivity tips as well as his advice for budding marketers.
Your location: HQ in Brisbane, Australia. Operations in Tokyo, Japan.
‍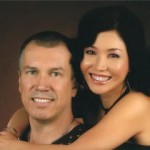 ‍
Your favorite gadget: My Samsung Gear 2 watch, which connects seamlessly with my Samsung Galaxy Note Edge phone.
You start your day with: A boiled egg (protein), a toasted brown-rice cake (carbohydrates), a handful of walnuts (fat) plus a double-shot cafe latte.
Your favorite time-saving trick: I voice record all important ideas and push them to my email inbox for processing later.
Your top 3 blogs you read daily: None! I was an avid reader of various blogs until I recently readEssentialism: The Disciplined Pursuit of Less by Greg Mckeown, and did a huge cull of unnecessary things from my life, including those blogs!
"Introduce new ideas slowly, measure them in terms of visitor and customer engagement constantly."
Describe an average day at Qhub?
An average day starts with me arriving at my desk in the co-working space I own in Tokyo, called Ginza Hub. I created Ginza Hub to provide a cool space (and great coffee) for entrepreneurs like me to create and run their startups. So once I'm at my desk, with a perfect cafe latte in my hand, I open up our Trello project board to see which project is the most important one for that day. I'm a great believer in tackling the most important things first each day when energy levels are high. After that, it's clearing my inbox and making sure my team is on track with whatever it is they are working on.
As a marketer, what is your favorite productivity hack?
Well, I'm not sure if it's a "hack" but to keep my own productivity levels high, I outsource anything and everything that I'm either not good at or just don't like. My focus is on servicing our customers and building our businesses, so if it's not directly related to those two things, like accounting or bug fixing for example, then I pay someone else to take care of them. Since reading The 4-Hour Work Week by Tim Ferris years ago, I've been able to successfully leverage outsourcing to really ramp up growth, both personally and in my businesses. Hell, back in 2001 I even launched a successful IT outsourcing agency here in Tokyo called Zeros And Ones, which I later went on to sell for a tidy profit, so it's kind of in my blood!
As a person who is well-versed with online marketing/ inbound, I'm sure you rely on a few marketing tools to automate your efforts. What are the top 3 tools you use?
Well, as mentioned above my team uses Trello to track and manage all of our various projects. It's ubiquitous nature means that we are all literally on the same page at the same time, and management-by-email is a things of the past (thank goodness.)
We use Intercom to communicate with our customers and to send drip fed messages out to them. It's an elegant platform that allows us to segment our users to send really tailored messages to them, either automatically or manually.
I'm also a big fan of split-testing software Visual Website Optimizer. As the not-very-technical business owner this allows me to validate my ideas via visitor and customer engagement on Qhub.com without having to write code or bother my busy team members for help. This saves an incredible amount of time.
Your company has a growing community of users. How do you use this treasure trove of customer insight to power your marketing efforts?
Well, in addition to being our communications platform, Intercom also automatically segments our users according to where they've been in our app and what actions they've taken there. This makes it super easy for me to see not only what new features or initiatives a particular customer has used, but also which new features or initiatives are popular in our user community as a whole. Then, over time, we invest more energy in the areas that customers show are important to them, and less or even no energy in the areas that they show are unimportant to them. I believe this is true the meaning of the oft used term "customer driven organisation".
What is your strategy for getting people to your site and then converting them to a customer?
Until December last year, we used various marketing channels (SEO, Adwords, remarketing, Facebook ads, blog posts, social media, etc.) to bring people to our site, which was optimized to encourage 14-day trial signups. Then, over time, just like in the Intercom example above, we invested more in the channels that brought the right visitors to the site, and less on the channels that brought fewer. From December, however, we launched a totally free version of Qhub, so we are now re-measuring the value of those channels again.
Is there any advice you'd like to give to budding marketers to help them work smart and stay productive?
Absolutely. Validate every idea with visitor and customer data. I've made the mistake of implementing marketing strategies which I thought were a sure thing, only to experience the frustration of wasted time and money. Introduce new ideas slowly, measure them in terms of visitor and customer engagement constantly, then dive in or pivot away when the evidence is there to justify it. I can't describe how important this is, and the impact it has on productivity.
A big thanks to Robert for taking the time out to answer these questions! If you haven't already, I highly recommend that you check out Qhub.
The 'How Marketers Stay Productive' series asks marketers their tips & strategies for staying productive. Every month we'll feature a new guest and the tricks that keep them working smart. Know someone you'd love to see featured? Email Us.