This week we feature Rohan Mahtani, Founder of Instamake. Instamake's free curated collection of resources is perfect if you want to quickly create your online business/idea in minutes with no code.
In this interview, you can read more about his work at Instamake, favorite marketing tools, productivity tips as well as his advice for budding marketers.
Your location: London, United Kingdom.
‍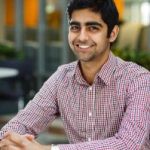 ‍
Your favorite gadget: MacBook Pro.
You start your day with: Breakfast and a cup of tea.
Your favorite time-saving trick: Get through the hardest tasks early in the morning.
Your top blogs you read daily: Product Hunt (not a blog but I browse through it everyday!), my Medium feed, and Feedly (aggregates everything).
"We truly believe in delivering immediate value to our customers."
Describe an average day at Instamake?
The day starts with catching up on emails, Slack and customer inquiries through our website. For those who don't know about Instamake, there are two core parts: a curated online directory of resources to build a startup with no code which is on our main website as well as a development & marketing consulting agency for customers wanting to build online businesses with a limited budget. Thus, throughout the day we're all working on one or more tasks to move both these parts of the business forward. This includes meetings and workshops to discuss growth/marketing, revenue, and partnerships with affiliates. The rest of the day's focus is on our customers and projects. This includes following up with leads, continue the development of existing projects and consulting customers on strategy, product development and growth.
As a startup founder, what are some of your favorite productivity hacks?
I start my day by quickly writing everything I need to do and prioritizing them. I find this really helps in setting the tone for the day and ensuring sure I focus on the most important things. Sure, things do make their way into the list as the day progresses but I try to keep it the same to ensure I get the most important things done.
I also use an old school Kanban board, with Post-It notes on my wall arranged by priority, progress and type. This really helps me in arriving at a quick high level view where we are as a whole and how all areas of our company are progressing.
Additionally, I try to always ensure meetings are short, sweet and effective, whether it's with the team, clients and affiliates.
As a person who is well-versed with online marketing/ inbound, I'm sure you rely on a few marketing tools to automate your efforts. What are the top 3–5 tools you use?
Google Analytics: We use Google Analytics to analyse our site's traffic and gain insight into our users. We can delve deep into which channels have been effective in driving traffic to our site as well as get a better understanding of how our users use our site. Knowing statistics such as what pages are most visited, how much time is spent on each page and the user flow really helps us better target our audience.
SuiteCRM: SuiteCRM is a CRM tool that helps us monitor and manage our relationships with our leads and contacts. We also use it as a pipeline management tool to monitor the workflow of our development and consulting projects involving growth, marketing and product development.
SumoMe: We use SumoMe to capture emails in an effective way. This enables us to keep in touch with our audience and gain further leads, as well as enable us to connect with our audience.
Evernote: Love Evernote and pretty much use it for everything from brainstorming ideas to drafting articles.
Your company has a growing community of users. How do you use this treasure trove of customer insight to power your marketing efforts?
We're always analysing our metrics to ensure our marketing efforts and content are effective. We look at analytics to see what users want and in turn use this to deliver higher quality content. We also focus on identifying where users come from and which channels are most effective, thus reducing effort on those which aren't. We're also very open to feedback from our customers and audience and treat any feedback very seriously!
What is your strategy for getting people to your site and then converting them to a customer?
We target marketing channels which are a great fit for the audience we want to attract people who need help building an online business/startup. Product Hunt, relevant sub-Reddits, and social media groups have been great in providing us with significant initial traction.
We truly believe in delivering immediate value to our customers, and that's why our main site is a free curated directory of resources which help you build an online business with no code. Check it out on instamake.io if you haven't! Our customers who've gotten in touch with us found immense value in this free directory that we created and felt Instamake were well positioned to help them going forward.
Is there any advice you'd like to give to budding startup marketers to help them work smart and stay productive?
Be lean and talk to your users! If you have an idea, talk to your users and find out if your solution solves a real problem they have. Instamake.io's free online directory has curated free resources that will help you build any kind of online business or prototype quickly with no code. This will help you immediately build your version one of your product so you can focus on the actual execution of your idea and getting users instead of in the build phase.
A big thanks to Rohan for taking the time out to answer these questions! If you haven't already, we highly recommend that you check out Instamake.
The 'How Marketers Stay Productive' series asks marketers their tips & strategies for staying productive. Every week we'll feature a new guest and the tricks that keep them working smart. Know someone you'd love to see featured? Email Us.