This week we feature Rudy Bianco, Founder of Marketeer. Marketeer is an intelligent CRM app which let you interact with your customers & users by email, online and WhatsApp, adding machine learning to the process, for increasing efficiency and customer satisfaction.
In this interview, you can read more about his work at Marketeer, favorite marketing tools, productivity tips as well as his advice for budding marketers.
‍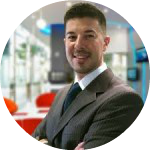 ‍
Your location: ​We are a international company, basically I'm mostly the time at Barcelona, with the team in 4 different cities.
Your favorite gadget: A Mat :-)
You start your day with:​ Exercise or Yoga.
Your favorite time-saving trick: Being in Focus.
Your top 3 blogs you read daily:My colleagues and friends share me what it's really interesting to read, and on weekends Flipboard.
"Being motivated is the best productivity hack ever invented."
Describe an average day at Marketeer?
We work with an extremely agile management of everything. We start the day right-after and finish the day before. When you do not have a lot of resources, you have to manage perfectly where those resources are being allocated every minute of this entire day. We learned how to pass ideas to backlog. And I remark -we learned- because it's quite tough to not do it. You are using a new tool, managing your time but 20,000 new ideas and improvements come out and you want to do all of them. Now, we decide to do everything if it's faster to do it now than later, if not… later. Secondly, we prioritize the mission of the company at every stage. Today the focus is to "generate revenues" and we are in middle of "anything" and if a new deal arrives, that day could suddenly change. We follow a strategy, changing the tactic daily if it's necessary. Time is money, but in tech, it's worse than that.
As a startup founder/ marketer, what are some of your favorite productivity hacks?
Being motivated is the best productivity hack ever invented. You have to sleep well, if not you are a disaster. But no matter how many the hours you slept yesterday, if you wake up with happiness, you have energy to do everything.
If I had to make my list:
1. Have passion in what you do.
2. Work hard when you have your inspirational moment. Inspiration is not something that you can "call" when you need it.
3. Have a hobby and good habits.
4. Relax your mind EVERY-DAY. Headspace could be helpful.
5. Be social, with real people often, not just online.
6. Dedicate time to the people you love.
7. Check your talent. See what you are more "talented" in. Here is something helpful: Be more than just an entrepreneur. Find your talent & be…
8. Finally, the most important. Celebrate your successes. No matter how small, anything that is good. It will keep you motivated.
Having a state of calm for yourself is so important to be productive.
Anything that keeps you calm but motivated will push up your knowledge and talent to do what you have to do.
As a person who is well-versed with online marketing, I'm sure you rely on a few marketing tools to automate your efforts. What are the top 3–5 tools you use?
The most reliable tool we really use at our office is our own :-) and it's real fact. When you develop software that serves for customer acquisition and retention, and you are a startup that extremely needs to acquire customers, we do our best to have the best tool that fits that.
On a daily basis, I think that there are 6 tools that today are a must-have:
- Marketeer: We manage users, customers, ideas, business intelligence… We live it. Because customers are the key of business.
- Google docs is a daily work. Sharing ideas, documents or presentation for today's business day is massively time saving. Especially because everybody can interact on the same document, beside being in the office at the same time.
- Trello: So important not only to manage your day, but also to have a place to write your backlog ideas.
- Evernote: Everything interesting goes to Evernote. And I compliment it with Pocket. Pocket is a faster way to save important things and share it quickly with your colleagues.
- LastPass: Without a place to manage credentials, we are lost. We have access to dozens or even hundreds of platforms and if you need to quickly access them, lastpass is the king.
- Hootsuite: The last of the browser extensions I use the most.
Your company has a growing community of users. How do you use this treasure trove of customer insight to power your marketing efforts?
Feedback. You can not even think about a strategy or the next step without knowing the right direction. We strongly believe in the lean startup concept. And of course to get that feedback we talk with our customers using our platform Marketeer. We love the name.
What is your strategy for getting people to your site and then converting them to a customer?
You know AARRR, the growth hacking concept? Well when a user becomes a customer (the first R), we split it and evaluate him. We create a profile of him and we add the PROS and the CONS. Then we figure out, what this customer has in common with the rest, how attractive his market is, how easy it was to acquire him, etc. And then we do something like this:
‍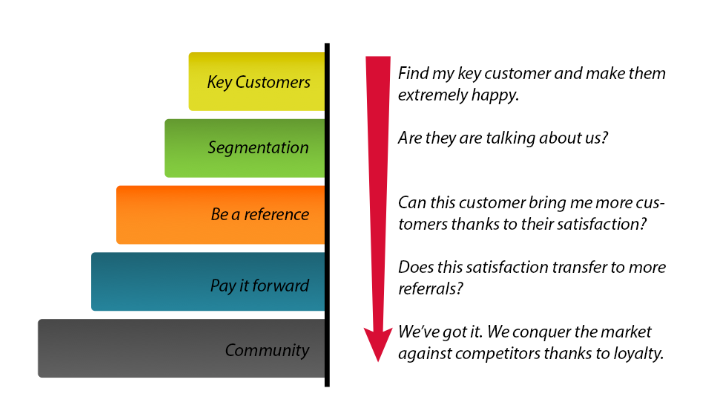 ‍
Is there any advice you'd like to give to budding startup marketers to help them work smart and stay productive?
There are bunch of books and videos that you should consider to read, but don't copy this strategy. You have to use this knowledge for a clever and better strategy and not thinking that because others did it, it will work for you.
1. Be healthy: Do some sport, go to the gym on daily basis.
2. Nutrition: Do not eat bad or heavy. The food and drink is the fuel of your body. There is an interesting article about 20 Foods That Make You Smarter.
3. Have goals with clear milestones: You can change the way to proceed, but not your goals. If you change too much, you just have no idea what you are doing and maybe it's time to stop, wait, re-plan and maybe, start again.
A big thanks to Rudy for taking the time out to answer these questions! If you haven't already, we highly recommend that you check out Marketeer.
Managing marketing projects shouldn't be chaotic — Try Brightpod for free and start focusing on what matters.