For our eighteenth interview series, we feature Suzanne Louis, Marketing Specialist at 1CRM. 1CRM enables businesses to create and maintain great customer relationships and experiences with the most complete, customizable and affordable customer relationship management (CRM) solution on the market.
In this interview, you can read more about her work at 1CRM, favorite marketing tools, productivity tips as well as her advice for budding marketers.
Your location: Toronto, Ontario.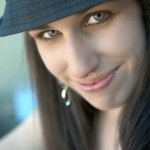 Your favorite gadget: My iPhone
You start your day with: Green Tea
Your favorite time-saving trick: Templates — If there's a template out there that performs the exact action you need, why reinvent the wheel? Spend the $5, buy the template, and save yourself hours of work.
Your top 3 blogs you read daily: Brian Tracy's Blog , Entrepreneur , Socialmediatoday
"We listen to our customers as much as possible, and shape the product around their feedback."
Describe an average day at 1CRM?
Every person at 1CRM has a different day, every day. We're a largely remote team, and all have our own to-do lists, which change according to which projects we're working on and customer needs. So long as the tasks get accomplished on time, everyone is free to structure their days as they see fit, to achieve their optimal work/life balance. We all stay connected through email, Skype, and GoToMeeting.
While this doesn't happen every day, I like to begin my day by going to Starbucks to check my emails and update our social media profiles. I'll then check my to-do list, and head back home to get started on the tasks of the day. Mine often involve advertising & budgeting, analytics & SEO, creating artwork & content, following up with customers, web design, video production, and making new connections. At lunch time, I enjoy going for a jog outside to recharge my batteries. After I come home and complete my tasks for the day, I spend time with my loved ones.
As a founder/ marketer, what are some of your favorite productivity hacks?
1. Clean work space. Everything feels more focused and in order. A messy workspace is only a reminder of other jobs you should be doing.
2. Check your email only at certain times of the day. It's easy to check it every 5 minutes to see if a new message has come in, but then it's hard to stay focused on more important tasks.
As a person who is well-versed with online marketing/ inbound, I'm sure you rely on a few marketing tools to automate your efforts. What are the top 3–5 tools you use?
MailChimp — Simple way to create newsletters from great templates.
1CRM — Drip-feed campaigns and target lists allow me to easily follow-up on new leads, and maintain contact with current customers.
Google Analytics — GA provides great insight into how visitors arrived at our website, the actions they perform, and which pages on the website could use improvement.
Survey Monkey — Surveys provide a wealth of knowledge about our customers, and SurveyMonkey makes it really easy to create and distribute surveys at a moment's notice. Their detailed analytics pages are also wonderfully put together.
Your company has a growing community of users. How do you use this treasure trove of customer insight to power your marketing efforts?
We listen to our customers as much as possible, and shape the product around their feedback. Whether it's comments on the community forum, in social media, or through surveys we send out, we keep track of who requested which features, so that we can notify them when that feature becomes available. Regardless of how large the community becomes, we strive to treat everyone like they are our only customer.
What is your strategy for getting people to your site and then converting them to a customer?
Honestly, our main strategy is offering a free Edition of 1CRM. When learning about a product for the first time, a certain degree of risk is involved in the purchase. Will they like it? Does it fit their business model? By offering a free and fully functional Startup Edition, we are able to draw customers in, and provide them with a risk-free introduction to the system. Many then opt to upgrade at a later date.
Is there any advice you'd like to give to budding marketers to help them work smart and stay productive?
1. Dedicate a certain amount of time to Social Media and then move onto another task. It's easy to let the hours melt away while updating your various profiles.
2. Exercise after lunch. Working in one place for too long, you can get a bit of cabin fever. A nice run outside refreshes my mind and body to finish off the work day.
3. Whenever possible, answer emails immediately. Putting emails off is an easy habit to fall into, but then new ones come in, and you forget about the old ones. I find the best practice is to just respond as soon as you read the email. It's one less thing to remember to do.
A big thanks to Suzanne for taking the time out to answer these questions! If you haven't already, I highly recommend that you check out 1CRM.
The 'How Marketers Stay Productive' series asks marketers their tips & strategies for staying productive. Every month we'll feature a new guest and the tricks that keep them working smart. Know someone you'd love to see featured? Email Us.