This week we feature Tim Fouracre, Founder and CEO at Clear Books. Clear Books provides online accounting software that includes bookkeeping and invoicing features for small businesses.
In this interview, you can read more about his work at Clear Books, favorite marketing tools, productivity tips as well as his advice for budding marketers.
Your location: London.
‍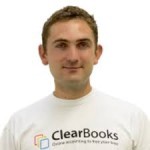 ‍
Your favorite gadget: iPhone 6 plus.
You start your day with: A walk to work along the Thames.
Your favorite time-saving trick: A bias for action.
Your top 3 blogs you read daily: Clear Books and any competitors
"You should always experiment. If the data suggests a campaign is not working then stop the experiment and try something else."
Describe an average day at Clear Books?
No day at Clear Books is average! Our mission at Clear Books is to support the small business community and a typical day revolves around that mission. It will cover anything from product to support to marketing to sales with a lot of emails, meetings and conversations thrown in.
As a founder, what is your favorite productivity hack?
Objective Key Results (OKRs) are an excellent tool to focus your company, team or even an individual on a clear objective for a quarter with quantifiable results.
For example, an OKR might be to increase website traffic by 50%. This is the overall objective.
You will then set out four or five key results identifying how the objective will be achieved. For example one key result might be to increase spend on PPC by £5,000 per week resulting in an extra 5,000 visitors. Another might be to write 20 new blog posts resulting in an extra 10,000 visitors.
As a person who is well-versed with online marketing/ inbound, I'm sure you rely on a few marketing tools to automate your efforts. What are the top 3 tools you use?
As an online business there is just one marketing tool that we continue to use and could not do without and that is Google Analytics. It tells us everything we need to know about how our prospects are finding our brand. Google tag manager, user ids and data layers are all terms any advanced analytics user should be familiar with.
Your company has a growing community of users. How do you use this treasure trove of customer insight to power your marketing efforts?
The Clear Books Community is a forum where our customers can provide praise, ideas, problems or ask a question. Our customers vote on ideas they would like to see implemented in the software so we are effectively crowdsourcing the most popular ideas from our customers. This democratic customer driven development ensures our customers get the features they want.
What is your strategy for getting people to your site and then converting them to a customer?
In our formative years SEO, word of mouth and referrals were low cost drivers of growth for Clear Books.
These days we implement a range of activities including paid search, remarketing, events, training, webinars and email campaigns.
Is there any advice you'd like to give to budding marketers to help them work smart and stay productive?
First, it is important to measure the success of a campaign whether the goal is conversations, prospects or customers. If you can't or don't measure the success then it's wasted money investing in the campaign.
Secondly, you should always experiment. If the data suggests a campaign is not working then stop the experiment and try something else.
Thirdly, you need to promote a consistent message that is repeated.
A big thanks to Tim for taking the time out to answer these questions! If you haven't already, we highly recommend that you check out Clear Books.
The 'How Marketers Stay Productive' series asks marketers their tips & strategies for staying productive. Every week we'll feature a new guest and the tricks that keep them working smart. Know someone you'd love to see featured? Email Us.