This week we feature Vasco Vasconcelos, European Marketing & Sales Manager at Kinematix. Kinematix is a body dynamics company offering healthcare and fitness products.
In this interview, you can read more about his work at Kinematix, favorite marketing tools, productivity tips as well as his advice for budding marketers.
Your location: Porto, Portugal.
‍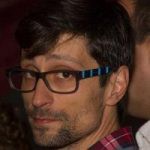 ‍
Your favorite gadget: iPhone.
You start your day with: A shower.
Your favorite time-saving trick: Getting done with my mail inbox first thing in the morning.
Your top 3 blogs you read daily: Six Pixels of Separation, Fast Company, Sports Wearable.
"Do not be afraid to try, do not be afraid to fail in those attempts."
Describe an average day at Kinematix?
Average days are quite rare at Kinematix. As a startup, we're growing rapidly, so I spend a lot of time tackling problems that suddenly arise.
Usually I come to the office and plow through all the notifications the previous night: emails, Social Media accounts, website analytics, web shop. I prioritize working on the most important and urgent things first. After priorities have been defined, I take a glimpse at news/blogs, namely running sports and technology related ones. When you work in a fast-paced market , like the wearables market, it's essential to stay up to date on trends, customer needs and technological evolutions. I then go back to the items on my priority I have regular informal meetings/chats with all heads of department and the marketing team members, so we can all stay on the same page and up to date.
As a startup marketer, what are some of your favorite productivity hacks?
Prioritizing things. You have to know very clearly what needs to be done, let others know that you're working on it, and arrange all the unexpected tasks that come after. That and taking some 5 minute breaks along the day to breathe some fresh air and get some sun. Work smarter rather than harder.
As a person who is well-versed with online marketing/ inbound, I'm sure you rely on a few marketing tools to automate your efforts. What are the top 3–5 tools you use?
Google apps; Google docs, sheets and slides.We keep everything in the cloud so that we can always access relevant docs and information across devices and teams.
Feedly; It allows me to keep my newsfeeds updated and noise-free as much as possible.
Hootsuite; Helps me manage our social media accounts (or most of them) from a single platform and dashboard.
Your company has a growing community of users. How do you use this treasure trove of customer insight to power your marketing efforts?
Kinematix TUNE is a product built with and for runners. We engage with runners (both recreational and professional) and coaches regularly to ensure the development roadmap meets their needs and not our own agenda. Seeing how they use and interact with our solution allows us to improve.
What is your strategy for getting people to your site and then converting them to a customer?
Talk to them, have a conversation. Kinematix TUNE is a relevant solution that simply makes sense. It's all about finding the right conversation. Being a breakthrough product, we have to educate the market (people) towards new performance measuring parameters that aid in running form improvement. Of course that may also prepare the market for any similar products that follow us, but it's a chance we're willing to take.
We also put into practice all the standard marketing efforts any B2C tech startup should such as, online and social advertising, user experience, etc.
Is there any advice you'd like to give to budding startup marketers to help them work smart and stay productive?
Do not be afraid to try, do not be afraid to fail in those attempts. Not making a decision will cost you far more than making a wrong one. You can always learn from your mistakes, but doubts will take you nowhere.
A big thanks to Vasco for taking the time out to answer these questions! If you haven't already, we highly recommend that you check out Kinematix.
The 'How Marketers Stay Productive' series asks marketers their tips & strategies for staying productive. Every week we'll feature a new guest and the tricks that keep them working smart. Know someone you'd love to see featured? Email Us.