This week we feature Viktor Magic, Product Owner at Nicereply. Nicereply is a web-based customer satisfaction survey software.
In this interview, you can read more about his work at Nicereply, favorite marketing tools, productivity tips as well as his advice for budding marketers.
‍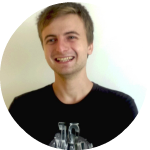 ‍
Your location: Bratislava, Slovakia.
Your favorite gadget: iPhone.
You start your day with: Glass of water and radio.
Your favorite time-saving trick: Try to have empty inbox after end of a day.
Your top 3 blogs you read daily: Coelevate , Joel , Paul Jarvis.
" Do what works now and build what works later. "
Describe an average day at Nicereply?
Most people work remotely so the office is pretty empty on most days. Team communication is going on in Slack. On a typical day every team works privately on their 3-month goals and communicates in their own Slack chat. Every team member has their own goals — so there's very little micromanagement. We occasionally have meetings but we try to avoid them as much as we can since these tend to waste a lot of productive time. We also have a common chat room for random ramblings — we post cat videos, jokes, funny news, ideas and so on.
As a founder, what is your favorite productivity hack?
Headphones, good music and focus on a certain task.
As a person who is well-versed with online marketing/ inbound, I'm sure you rely on a few marketing tools to automate your efforts. What are the top 3 tools you use?
We use several online tools at Nicereply, most often: Trello, for task management.
Slack, team chatClose.io, for closing dealsMailchimp, for email marketingHelp Scout, for customer supportand of course Google apps as Analytics, Drive and Adwords.
Your company has a growing community of users. How do you use this treasure trove of customer insight to power your marketing efforts?
I personally get in touch with every new trial signup to help them out with setup. Thanks to this we can better insight of user's needs. Many times they tell us, what are they looking for and what pain they trying to kill with our solution. This is very powerful in combination with quantitative data.
What is your strategy for getting people to your site and then converting them to a customer?
We wrote a blog post about 3 user acquisition hacks and one of that we use at Nicereply:"What you really need to do with your marketing is to find your target group. Target group for Nicereply were users of help desk systems. Thus we made plugins for help desk systems. They put us on their websites, tweeted about us and wrote blog posts about our integration. This was so far the only relevant marketing channel which provides us paying customers only with development costs." To convert trials we use mention personal help to every signup. All we try to do is to help them setup the system. Once everything is working correctly, their started to receive feedback ratings afterwards. Users can see the actual value in the product thus they happily became paying customers.
Is there any advice you'd like to give to budding marketers to help them work smart and stay productive?
Test all possible marketing channels, identify the most valuable ones and start digging. Do what works now and build what works later.
A big thanks to Viktor for taking the time out to answer these questions! If you haven't already, we highly recommend that you check out Nicereply.
Managing marketing projects shouldn't be chaotic — Try Brightpod for free and start focusing on what matters.