For the fifth installment of our 'How Marketers Stay Productive' series, I spoke with Rob Holmes, Head of Digital at KashFlow — A startup that provides accounting software for small businesses.
In this interview, you can read more about Robs work at KashFlow, his favourite marketing tools and productivity tips as well his advice for budding marketers.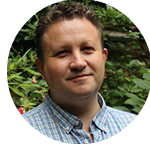 Location: Pembury, a small village in the heart of Kent.
Current gig: Head of Digital at KashFlow.
Your favorite gadget: A Roku and a Swiss Army Knife.
You start your day with: Family time over breakfast.
Your favorite time-saving trick: Delegation to a person better suited to the job!
Describe an average day as the Head of Digital at KashFlow.
I'm usually up around 6am checking the previous day's performance figures and answering emails, then grab breakfast with my family before heading to our London Bridge office for about 8.30am. My day consists of moving forward with our digital strategy, including conversion rate optimisation, SEO & PPC and plenty more. I also head up a great team, who handle copywriting, communications, social media and website management. I get home around 7pm each evening and spend some more time with the family!
As a marketer, what are some of your favorite productivity hacks?
Prioritisation: I keep a priority list up to date and make sure that I stick to it. Anything that can be done in a few minutes I'll do immediately, freeing up my attention for bigger projects.
Delegation: I surround myself with a team of experts who I know will do a great job and finish tasks without having to be micromanaged.
Dispose: I do my best to never take sales calls — instead, I get them to email me so I can look at them in my own time without having to listen to a lot of waffle!
Plan: I lock myself away in my home office every Monday to prioritise, plan, compile reports, create lists of jobs to be done and chase projects with almost no contact with the outside world; this ensures I don't lose focus!
As a person who is well-versed with online marketing, I'm sure you rely on a few marketing tools to automate your efforts. What are the top 5 tools you use?
Google Analytics — I set up custom dashboards that are tuned to the business's KPIs so all the information I need is available at a glance.
Optimizely — With drag and drop functionality, Optimizely is great for split testing web pages without having to get too deep into the code!
Serpfox — I use this to track our organic rankings on keywords automatically.
Basecamp — If I need to make sure that projects, tasks I've delegated etc are on track it's great to have a tool that I can use to check what, and where, everyone is up to.
Crazy Egg — Being able to look at visitor browsing patterns is useful for getting inside the head of web visitors and customers.
How has online marketing evolved in the last decade?
We now have a huge number of tools at our disposal to get to know our customers and figure out why they buy (or don't). Understanding customers is a lot easier than it was ten years ago! Make use of tools like Google Analytics, on-site surveys, heat maps and split testing to learn more about your customers. In recent times firms like Groupon have trained people to expect daily emails from companies, which is great news for marketeers who want to stay in touch with their customers regularly. Theres a whole pile of tools used for tracking channel performance too!
KashFlow has a growing community of users. How do you use this treasure trove of customer insight to power your marketing efforts?
It's pretty straightforward — Over the years, KashFlows feature development has been customer led so the accounting software is built with real customers needs in mind, rather than what WE think they need. We use tools like feedback forms and UserVoice to listen to what our customers are saying and then act on it. Marketing the product then becomes a simple matter of telling people the best ways we can help them by highlighting the features they've told us they need and making it easy for potential customers to explore the product when they sign up for a free trial. The more we listen, the better the product gets.
Is there any advice you'd like to give to budding marketers to help them work smart and stay productive?
Listen to your customers — get to know them and their needs, give them a voice and find out the things they love (and the things they don't…), then use this to make and market a product that's perfect for them.
Stay focused on your prioritised jobs list — distraction is usually both tempting and counter-productive.
Stay off social media during the working day unless you're using it for the business; it's all too easy to waste time seeing what friends are up to.
Test conversion rates on different marketing channels and focus your efforts on the ones that you KNOW work.
Know your primary goal e.g. achieve more X, then keep asking yourself the question 'will doing this get me more X?'
Avoid paid advertising that you can't track…unless you have money to burn.
A big thanks to Rob for taking the time out to answer these questions. We wish him and the rest of the KashFlow team all the best with everything they do.
Tune in next month for another edition of 'How Marketers Stay Productive'!
The 'How Marketers Stay Productive' series asks marketers their tips & strategies for staying productive. Every month we'll feature a new guest and the tricks that keep them working smart. Know someone you'd love to see featured? Email Me.