As part of our 'How Marketers Stay Productive' series, I recently spoke with Twain Taylor, Marketing Manager at FusionCharts. Twain handles a whole bunch of marketing activities at FusionCharts — from SEO and social media to brand building and lead generation.
In this interview, you can read more about Twain's work at FusionCharts, his favourite marketing tools and productivity tips as well his advice for budding marketers.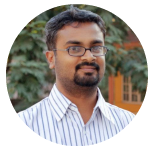 Location: Bangalore
Current gig: Marketing Manager at FusionCharts
Your favorite gadget: Canon 550D
You start your day with: Walking my dog, Tia
Your favorite time-saving trick: Scramble!
Describe an average day as a Marketing Manager at Fusion Charts.
It's quite a rush, and a lot of things happen, many at the same time. Here are some of the things on my mind during the day — take the blog post live, email newsletter needs to be tagged, check our adwords account, send collateral to event organizers, reach out to industry bloggers, plan outreach for the lead gen campaigns, implement the new google analytics feature, keep track of competitors and external forums like StackOverflow, get help from support and respond to that new comment on our facebook/twitter/blog, submit & review weekly reports, and lots more.
What makes all this easy and fun to do is the amount of flexibility, and autonomy in our work culture. That's one of the main the differences between marketing at a startup, and marketing at a corporate.
As a marketer, what are some of your favorite productivity hacks?
A to-do list is an oldie but a goodie, I make one everyday. I also take notes on what I read/learn, so I don't forget it, and can access it easily later.
What are the top 5 tools you use to automate your marketing efforts?
FusionCharts has thousands of users all over the world. How do you use this treasure trove of consumer insight to power your marketing efforts?
We have 21,000 customers, most of whom are enterprises, and a user base of 450,000 developers. With this backdrop, a lot of what we do at FusionCharts is to solve for enterprises and their developers. If you check out our blog, you'll notice how we do this with topics ranging from developer tutorials, to data visualization best practices, to inspiring dashboards, and even the occasional fun infographic. We have enterprises and developers at the center of all we do.
Is there any advice you'd like to give to budding marketers to help them work smart and stay productive?
Set expectations/goals at the start: It's one of the most difficult things to do at a startup with so much flux, differences in perspective, and feisty teammates, but is probably the most important.
A big thanks to Twain for taking the time out to answer these questions. We wish him and the rest of the FusionCharts team all the best with everything they do.
Tune in next month for another edition of 'How Marketers Stay Productive'!